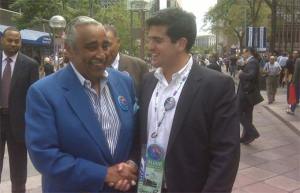 Excerpts of Michelle Obama's speech, to be delivered tonight, include this line about her husband: "He's the same man who drove me and our new baby daughter home from the hospital ten years ago this summer, inching along at a snail's pace, peering anxiously at us in the rearview mirror, feeling the whole weight of her future in his hands."
Thinking about expectations for her speech, Marc Ambinder says she is the most modern potential first lady yet, "but the Obama's marriage and family life are the most traditional of any presidential candidate's family in recent memory. "
Democrats are reportedly nervous about Bill Clinton's speech.
Chris Cillizza reports that Representative Chet Edwards, a finalist to be Obama's running mate, may be considered for a cabinet post.
According to Ben, Nancy Pelosi made the first extended argument against electing John McCain during her speech to the convention earlier today.
Three million people got the Obama V.P. text, according to Nielsen.
Protesters intending to levitate the Denver Mint did not succeed, but they were able to drive Michelle Malkin away.
Joe Biden looked awesome back in the day.
Tom Golisano released the list of State Senate candidates he will support with his P.A.C.
Indian Point is an eco-danger, reports the A.P.
Andrew Cuomo says the company that owns the plant will not be allowed to get out of payments to the state.
The Daily News reports that John Edwards is calling former aides and supporters asking for forgiveness, and not getting much.
Brooklyn Paper posted the video of their endorsement interview with Kevin Powell.