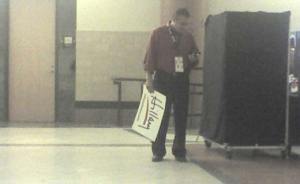 CNN reports that Bill Clinton will not attend Barack Obama's speech Thursday night, when he will officially accept the party's nomination.
The Hill says that Clinton people are spreading the word that Bill Clinton will ease doubts about his support for Obama tomorrow.
In any case, he's apparently he's still pissed at Bill Richardson.
Eve Fairbanks wonders which delegates are actually the ones that are going to vote for Hillary Clinton.
Noam Sheiber thinks it's disgruntled Hillary donors driving the "Hillary's-been-dissed" storyline.
At a gala for EMILY's List, Clinton said that Michelle Obama will always pick up the phone.
Obama is "one of us," said Pennsylvania Senator Bob Casey in a speech to the convention.
Josh Marshall thinks Casey should have done the keynote instead of Mark Warner.
Michael Crowley thinks the problem with Warner wasn't the speech, but the delivery.
Dennis Kucinich's rousing speech got a standing ovation.
Agreed: Brian Schweitzer is great.
The men who said they intended to assassinate Obama never posed much of threat.
Bouldin likes David Paterson's one-liner about McCain.
Chuck Hagel and seven other Republican Senators are not going to the G.O.P. convention.
Iraq veterans were allowed to proceed with a protest, although they did not have a permit.
In City Journal, Daniel Flynn wonders why Democrats are glorifying the 1968 convention.
Back in New York, a Bay Ridge blogger is concerned about State Senator Marty Golden's relationship with The Bay Ridge Manor.
And Michael Bloomberg says he can't remember how he voted on term limits.