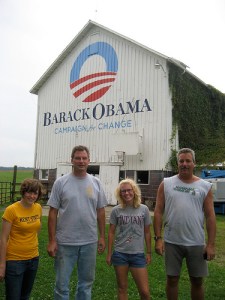 The New Republic takes a deep look at John McCain's position on abortion, and finds him screaming in an Arizona Planned Parenthood back when he just a congressman.
Chuck Hagel will not endorse.
Speakers at the D.N.C. will include Claire McCaskill, Nancy Pelosi, and the mayor of Denver, whose last name is Hickenlooper.
The Denver Post winds up the Democratic convention rumor mill.
Barack Obama, who can't seem to get enough of glossy magazines, sits down with Marie Claire.
Lincoln Chafee, part of a group of Republicans for Obama, says he sees "a different John McCain."
A new poll of voters by religious affiliation gives McCain a slight edge with evangelicals, but Obama leads by nine points with Christians overall.
Joe Lieberman and McCain spent the day in New Jersey, where Lieberman implied that Obama does not put his nation first.
Obama is leading (barely) in Alaska, according to a new poll. Alaska!
Obama's barn-painting is an effort to do better in rural Ohio than John Kerry. (Giving the governor a speaking slot helps, too.)
The City Planning Commission is holding one hearing on three big, controversial development projects.
One of those project, the Willets Point plan, has reportedly just been formally opposed by 30 Council members (a majority).
Malcolm Smith isn't sure what Michael Bloomberg was doing today, but he isn't worried about it.
Michael Bloomberg announced the creation of a climate change task force.
Tom Suozzi faced down a group of W.F.P.-A.Q.E. protesters as he arrived at a stop on his property tax-cap tour.
Bouldin thinks the W.F.P. is being disingenuous with its anti-Paterson ad.
Upstate Assembly candidate Jonathan Smith outlined a plan for better energy use.
Tate is throwing a party for Dan Squadron! (via Brooklyn Heights Blog)
"We are all Georgians," says McCain.
Will Hilllary Clinton ever stop thinking about tomorrow?
Charlie Rangel's self-esteem is just fine.