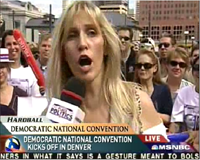 Yesterday Media Mob introduced readers to Cristi Adkins, the supposed Hillary Clinton supporter who managed to get her virulent anti-Barack Obama views aired on MSNBC's Hardball and Comedy Central's The Daily Show With Jon Stewart.
Little did we know that Ms. Adkins is at the center of several investigative campaigns into her motives, her funding,and her background. Several bloggers and media outlets are trying to determine if Ms. Adkins is more than just an angry Clinton supporter who found her way onto the national stage. Some are even wondering if Ms. Adkins is a Republican dirty tricks operative.
According to the Huffington Post's Off the Bus writer Edward Rotchford, "It took me all of 30 minutes of roaming the Internet before I determined that 'Clintons4McCain.com' was a product of the Right-Wing Smear Machine." Mr. Rotchford tries to connect Ms. Adkins' Web site, Clintons4McCain.com with ClintonsforMcCain.com, a site that Wired.com revealed on June 5 to be a Republican National Committee front. "'Clintons4McCain.com' was registered on June 4th … perhaps someone knew about the article that was to come out the next day?"
That may be circumstantial, but NPR's Will Evans talks to Ms. Adkins and manages to tie her to (as his article's headline suggests) Strange Bedfellows Behind Anti-Obama 'Turban' Ad. According to Mr. Evans, Ms. Adkins, a hypnotherapist and nurse from Reston, Virginia, managed to produce an incendiary anti-Obama ad (funded in part by a felon who actually never paid for the production) under an organization called "The Coalition Against Anti-Christian Rhetoric."
Talking to Mr. Evans, Ms. Adkins again attempts to smear Senator Obama as a terrorist, saying, "I truly fear an Obama presidency. This guy's so dangerous, who needs al-Qaida?" The ad shows a deceptively edited speech made by Senator Obama in 2006 in which he appears to say, "We are no longer a Christian nation. … We are a Muslim nation." (The full text of that speech actually reads, "Moreover, given the increasing diversity of America's population, the dangers of sectarianism have never been greater. Whatever we once were, we are no longer just a Christian nation; we are also a Jewish nation, a Muslim nation, a Buddhist nation, a Hindu nation, and a nation of nonbelievers.")
The spot could've been a lot worse, according to Mr. Evans, who quotes the video's creator—a wedding and corporate video maker named Nick Thomas—who says Ms. Adkins originally wanted him to juxtapose shots of Senator Obama with Adolf Hitler and superimpose devil horns on his head. (Ms. Adkins replies, "I might have said, 'Can you put a subliminal shadow in?' I don't know that I said put devil horns.") Okay, so she never compared him to Hitler, but on the Clintons4McCain MySpace page, there's an illustration of Senator Obama as Stalin, which you can enjoy while listening to the embedded song "God Bless the USA" by Lee Greenwood.
Are Hitler and Stalin not scary enough? Maybe Senator Obama is some sort of evil svengali? In a press release from Aug. 2 on PR-Inside.com, Ms. Adkins touts a Blog Talk Radio program in which "[M]ind control expert Dr. Will Horton to reveal: what a candidate's hand gestures really mean, how politicians use hypnosis during their speeches, how to know which office seeker is telling the truth, and how to keep from falling under Obama's spell." (Dr. Will Horton, who should not be confused with a mnemonically similar specter of a previous racialized election campaign, apparently runs something called the National Federation of NeuroLinguistic Programming, which promotes a "mind control" technique known to help desperate men the world over pick up women, so it must be sound science.)
Want more on Ms. Adkins? The Web site M, P, & G S has a lengthy post that attempts to unearth more about about her with constant updates and user feedback. (It's featured on Digg and is already attracting attention.)
Whoever Ms. Adkins is—NPR's Mr. Evans quotes video maker Nick Thomas as suggesting she may be the entirety of the Coalition Against Anti-Christian Rhetoric (whose site, CAACR.com is no longer active)—she's managed to push herself and her anti-Muslim, anti-Barack Obama message into the mainstream. In addition to appearing opposite Chris Matthews (the video's been viewed 135,287 times as of this writing) and on The Daily Show, she's become fodder for jokes on sites like Jezebel, where Tracie "Slut Machine" Egan posted a comic strip of Ms. Adkins being scolded by Judge Judy. In his Huffington Post dispatch on Ms. Adkins, Edward Rotchford wondered how Ms. Adkins got on the air—and in our faces—in the first place:
Now, the Hardball crew had to have been setting up to shoot for quite a while, and Matthews did not go down to interview the crowd until the end of the hour-long program. Why didn't anyone bother to look up anything on Clintons4McCain.com? After all, they had a huge banner with the Clintons4McCain.com logo on it, and should have had plenty of time.
The truth is, the Right-Wing Smear Machine is ever evolving. More than just a group of conservatives that send out false emails, they are taking advantage of the increasing ratings found on cable news television and jumping at every opportunity to be seen.
Ms. Adkins, who has claimed from the beginning of her media ascendancy that she's a supporter of Hillary Clinton [Update: She does appear to have donated to Ms. Clinton's campaign], may have lost "her" candidate last night as Barack Obama was officially chosen as the Democratic contender for president, but she sure won a lot of attention from the news media. Not bad for a modest hypnotherapist and nurse from Virginia.