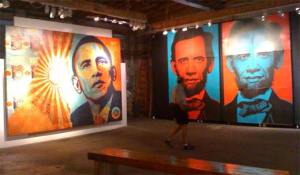 DENVER—Art is to presidential politics what food rations are to war—a necessary component of the enterprise, but nothing one would choose to consume under normal circumstances. In this, as in so many ways, Barack Obama's campaign is different.
Early on, Mr. Obama captured the fancy of the bicoastal artistic community, and he's gone to unprecedented lengths to incorporate their creations into his campaign. Perhaps the most successful example of this collaboration between the graphic and the political is a series of posters created by the designer Shepard Fairey: agitprop-like images of the candidate's face, superimposed over words like "hope" and "progress." Copies of the posters, once available through Mr. Obama's Web site, have long since sold out; they are now going on eBay for more than a thousand dollars apiece.
The success of Mr. Fairey's work has given rise to a legion of imitators, both authorized and unauthorized. It has also created a bit of an uncomfortable situation for the Obama campaign, which is now seeking to distance itself from all things bohemian, adulatory and vaguely European.
That may explain why the Manifest Hope Gallery, a temporary art exhibition organized in conjunction with this week's Democratic National Convention, is being held a safe distance from the Pepsi Center, in a converted warehouse near Coors Field. As one walks inside to a throbbing techno beat, the first work one confronts is a giant canvas by Mr. Fairey that depicts Mr. Obama staring off pensively into space, as what looks to be a giant orange sun explodes behind his head. Next to it hangs Ron English's work Abraham Obama, which morphs Mr. Obama's face into the familiar stovepipe-hatted countenance of Lincoln. Other works evoke a triumphant Muhammad Ali (Mr. Obama pumping a fist above a slogan that reads "Obama Bomaye!"); plaster Mr. Obama's mug on a pair of vintage Air Jordans; and depict him in a Tom Wolfe-ish linen suit, dancing on the White House lawn.
"The whole schematic of this is to bring people together to manifest hope," said Sowaila Zada, a spokeswoman for the show, which is sponsored in part by Obey Giant, Mr. Fairey's design firm, and MoveOn.org. "It's light, love, hope—whatever."
Some of the dozens of works on display were chosen as part of a competition sponsored by
MoveOn.org and judged by a panel that included Mr. Fairey, several other artists, and the musicians Thurston Moore and Moby. Others were commissioned specifically for the project. Most of them are connected either literally or aesthetically to the street art movement.
On Monday afternoon, Sam Flores, a former graffiti artist who now has an art and clothing design business in San Francisco, stood in front of his contribution to the project, a work he called New America. In one corner, it depicted a burning city; the left side of the canvas was dominated by a fanciful likeness of Mr. Obama, who, in Mr. Flores' depiction, was female and extremely pregnant. Mr. Flores pointed out that the houses were burning in a red-white-and-blue pattern. "It's an American flag subliminally," he said. "Then we've got the new America," he went on, pointing to the androgynous Obama. "New hope, new growth, new world."
Mr. Flores said he'd only had three days to spray-paint the canvas, but since he'd come from the streets, that was no challenge. "I just had an image of old America burning," he said. "The rest was just improvised."
arice@observer.com