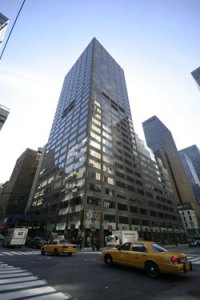 Entertainment law powerhouse Pryor Cashman, whose clients include Penthouse founder Bob Guccione and numerous American Idol contestants, is in negotiations for 100,000 square feet at 605 Third Avenue, the 44-story glass box of a building owned by Fisher Brothers.
"We are in negotiations for space at 605 Third Avenue and for other spaces as well," confirmed Ronald Shechtman, Pryor Cashman's managing partner, in a statement, adding that the firm has reached no agreements with anyone.
Mr. Shechtman later elaborated that the firm right now occupies about 100,000 square feet of contiguous space in three buildings, which means three leases—all of which expire at the end of next year—and three landlords.
"We are at 410 Park and 400 Park, and then we are also in the Heron Tower, on 55th Street, between Park and Madison, and we're connected in all the spaces," Mr. Shechtman said. "It creates certain inefficiencies, in having three elevator banks, three buildings, three sets of everything. But we're talking to everyone, including our current landlords."
The tower at 605 Third has 149,000 square feet available, according to CoStar, with asking rents at around $75 a square foot. Sadly, we couldn't wrest a comment from the leasing agent for Fisher Brothers, one of those old and rarely mentioned New York family firms, like the Olnicks, pre-Rangel.
Pryor Cashman joins a small pack of tenants—all with preternatural good timing—looking for large blocks of space in what is slowly becoming a tenant's Manhattan market. With vacancy rates inching up, and a number of financial firms expected to dump excess space on the market in the coming months, asking rents are expected to drop, and concessions are unquestionably on the rise.
Other firms on the market looking for more than 100,000 square feet include NBC Universal, banks Allianz, Natixis, and WestLB, and law firms Paul, Weiss, Rifkind, Wharton & Garrison and Fitzpatrick, Cella, Harper & Scinto.
drubinstein@observer.com