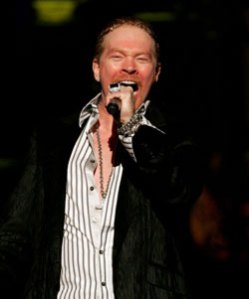 The FBI busted into the California home of one Kevin "Skwerl" Cogill at 6:59 yesterday morning, hauling the blogger off to U.S. District Court over charges that the 27-year-old violated copyright laws by posting nine tracks from the catastrophically-delayed Guns 'n' Roses album Chinese Democracy to his blog, Antiquiet, back in June. According to the LA Times, Mr. Cogil readily admitted to posting the tracks when the FBI first questioned him after the leak, and he has long since taken them down. Apparently, the Federal-freaking-Bureau of Investigation has nothing better to do than raid bloggers' homes in Culver City. Isn't there a war on terror going on? The affidavit, filed by Special Agent Jensen D. Penalosa, provides the back-story on Mr. Cogill's arrest (as well as a helpful description of a "WHOIS database query," for those of you with IT predilections.)
According to fellow Antiquiet-blogger Britney Bernstein (love the name), Mr. Cogill was still in his jammies when the judge ruled that Mr. Cogill's bail be set at $10,000 yesterday, though in this instance he doesn't have to go to jail. Unless someone coughs up the money, he need only stay within the Central District of California until his next court date. A preliminary hearing is scheduled for September 17, with a full arraignment on September 22.
Of course, the irony here is that the tracks themselves—which, when Mr. Cogill originally posted them, caused his blog to crash—don't seem worth near the trouble the Feds put the poor guy through, at least according to the commentary that greeted the leak. (As you can imagine, it's nearly impossible to find reliable versions of the tracks nowadays.) Though, you wouldn't now it from Skwerl himself, who, possibly blinded by the illicit thrills of criminality, thought the new shit ruled. "If you ask me, Guns N' Roses are fucking back, and they'll be just fine," he writes. If by "fucking back," he meant, "in need of a promotional stunt by a soda company to wrap up a 14-year stint in the studio," then sure.