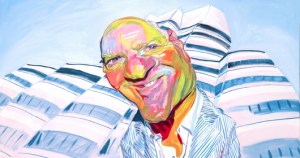 According to the Associated Press, Barry Diller's redundantly-named IAC/InteractiveCorp is splitting into five publicly traded companies. Presumably, there will be 10 names between them.
According to AP:
With the split, home shopping network HSN Inc., time-share business Interval Leisure Group Inc., ticketing service Ticketmaster and lending and real estate business Tree.com Inc. are due to begin regular trading Thursday under their own ticker symbols. The symbols are "HSNI" for HSN, "IILG" for Interval, "TKTM" for Ticketmaster and "TREE" for Tree.com.
The company's remaining Internet properties, including search engine Ask.com, are staying under the IAC name and will trade for the next 20 days as "IACID," due to Nasdaq rules. After that, IAC will regain its original "IACI" ticker symbol.
The split has been in the works for a long time. In December, The Observer's Doree Shafrir wrote, "The spinoffs came after pressure from an increasingly impatient John Malone, the reclusive billionaire head of Liberty Media who owned 24 percent of IAC and had been agitating for changes in the months before the announcement."
In a June profile of Mr. Diller in Portfolio, writer Duff McDonald estimated that "Since taking the helm of IAC in 1995, Diller has pulled down $1.1 billion for his efforts." No wonder he looks so pleased with himself in every photo in that article's accompanying slideshow.