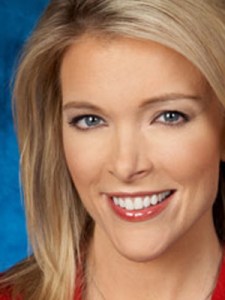 "I have a real affinity for the folks from Guam," said Megyn Kelly.
Since Monday morning, Ms. Kelly, the 37-year-old news anchor with Fox News, has been reporting from the floor of the Democratic convention in Denver. Her channel's riser is located between the delegations from New Mexico and Guam.
"Guam in on the floor," said Ms. Kelly. "Rhode Island is in the nose bleeds. How does this happen? They told me, it's because they went for Barack Obama and Rhode Island went for Hillary."
"They are so excited to be on the floor," she added. "They asked for a shout-out on the air, and they got it. They came over like 10 times and said thank you, thank you. This is a big week for Guam."
And a big week for Ms. Kelly. In addition to reporting in prime time from the floor of the convention, she is providing political analysis for various other Fox News shows, and anchoring the 5 p.m. hour alongside Bill Hemmer, with whom she regularly co-anchors the morning news show America's Newsroom. ("I always say that Bill is my TV husband, and I married well," said Ms. Kelly.)
When The Observer caught up with Ms. Kelly recently in the green room at the Fox News skybox inside the Pepsi Center, she had just finished an appearance on The O'Reilly Factor. Despite the hectic schedule, Ms. Kelly showed no signs of slowing down.
"This is my first convention," said Ms. Kelly. "The energy is palpable. It doesn't matter what your party affiliation is, just being around these people who care so much about process and their country–on the floor in particular–it's contagious. The sheer excitement. I think it's good for the human spirit just to be in the middle of all that positive energy. I look forward to seeing the same next week in St. Paul."
The Observer wondered how Ms. Kelly could hear anything when reporting from the floor during particularly raucous and noisy moments of the convention.
Ms. Kelly reached into her purse and pulled out a pair of TV earpieces, which had been designed especially for her work in Denver. The devices allow her to communicate with the control room and, at the same time, dampen the external hubbub.
"You have to go to the ear doctor," said Ms. Kelly. "You get these molds. I have small ear canals, they tell me. So it's even harder for me to get these things in my ears."
"You've also got the Janet Jackson headset," she continued. "I think it makes you look like you have a big mole right on the side of your face. In another life, at college and during my law school days, I used to teach aerobics. We used to wear the Janet Jackson headsets. Back then I thought they were really cool."