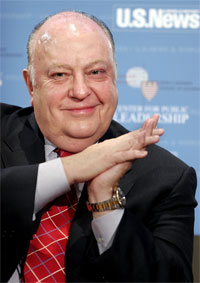 Are you better off than you were a year ago? If you're Roger Ailes, you sure are.
According to Silicon Alley Insider's Peter Kafka, the Fox News president and chairman earned an unbelievable $19.9 million in the last 12 months, according to S.E.C. filings from News Corp.
"What did he do to earn that?" Mr. Kafka asks. We wonder the same since in July, The Washington Post's Howard Kurtz reported that the Fox Business Network averaged 8,000 viewers during the day, as noted by Felix Gillette.
Per Mr. Kafka:
Primarily, he ran Fox News, which is still crushing the competition. In July, FNC was drawing an average of 1.45 million viewers per day, while CNN could only muster 809,000. That performance alone netted Ailes a $4.5 million bonus.
And while Fox Biz is still embronyic at best, Ailes got a big bonus just for launching it: 333,000 shares of News Corp. stock, valued at $7.7 million. Ailes also got some other perks: His corporate car and travel allowance totaled $168,173, for instance, and News Corp. also picked up a $52,000 tab for Ailes' personal security.
He better save every penny now that he's moonlighting in a notoriously bad business: In July, Mr. Ailes bought a newspaper.