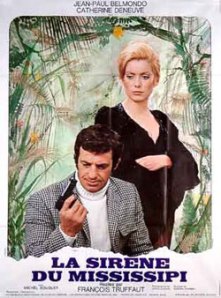 Bruce Goldstein has programmed a fantastic five weeks of French film noir and thrillers, spanning 1937 to 2000, and playing from now through Sept. 11 at Film Forum. The series has already begun, but it's not too late to catch Jean-Pierre Melville's Le Cercle Rouge (1970), with Alain Delon, Yves Montand and Gian Maria Volonte, on Friday, Aug. 15, and Saturday the 16th at 1, 3:50, 6:40 and 9:30. Jacques Becker's Touchez pas au Grisbi (1954), with Jean Gabin, Rene Dary, Lino Ventur and Jeanne Moreau, screens on Sunday the 17th at 2:55, 6:35 and 10:15, and Monday the 18th at 2:55; Melville's Bob Le Flambeur (1955), with Roger Duchesne and Isabelle Corey, plays Sunday at 1, 4:40 and 8:20, and Monday at 1 and 4:40. Also on Monday, Yves Allégret's Riptide (1949), with Gérard Philipe, Madeleine Robinson, Jane Marken and Jean Servais, screens at 7, and André Cayatte's We Are All Murderers (1952), with Marcel Mouloudji and Claude Laydu, screens at 8:45.
On Tuesday the 19th, Claude Chabrol's La Cérémonie (1995), with Isabelle Huppert, Sandrine Ponnaire, Jean-Pierre Cassel and Jacqueline Bisset, plays at 1:30, 5:25 and 9:30; Jean-Pierre Denis' Murderous Maids (2000), with Sylvie Testud and Julie Marie Parmentier, shows at 3:35 and 7:45. On Wednesday the 20th, Robert Bresson's Pickpocket (1959), with Martin LaSalle, screens at 3, 6:35 and 10:10; Robert Bresson's A Man Escaped (1956) shows at 1, 4:35 and 8:10. On Thursday the 21st, Henri-Georges Clousot's La Vérité (1960), with Brigitte Bardot, Charles Vanel, Marie-José Nat, Paul Meurisse, Louis Seigner and Sami Frey, shows at 2, 4:30, 7 and 9:30.
Friday and Saturday, Aug. 22 and 23, Jean-Luc Godard's Pierrot le Fou (1965), with Jean-Paul Belmondo, Anna Karina, Dirk Sanders, Raymond Devos, Graziella Galvani, Samuel Fuller, László Szabó and Jean-Pierre Léaud, screens at 1, 5:25 and 9:50; Francois Truffaut's Mississippi Mermaid (1969), with Jean-Paul Belmondo, Catherine Deneuve, Marcel Berbert, Roland Thénot, Martine Ferrière and Yves Drouhet plays at 3:05 and 7:30.
On Sunday and Monday, August 24 and 25, Jean-Pierre Melville's Le Doulos (1962), with Jean-Paul Belmondo, Serge Reggiani, Jean Desailly, René Lefèvre, Fabienne Dali, Michel Piccoli, Marcel Cuvelier, Monique Hennessy and Daniel Crohem, will screen; it shows Sunday at 1:30, 5:35 and 9:40, and Monday at 1:30, 5:35 and 10. Claude Sautet's Classe Tous Risques (1960), with Lino Vertura, Jean-Paul Belmondo, Sandra Milo, Marcel Dalio, Michel Ardan, Simone France, Michèle Méritz and Stan Krol, screens Sunday at 3:35 and 7:30, and Monday at 3:35.
asarris@observer.com