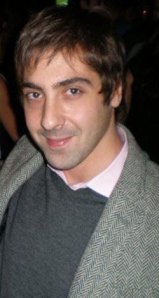 "This will be much funnier than Morley Safer," said Jeremy Bronson.
It was Monday afternoon, and Mr. Bronson, 28, who until recently worked as a supervising producer on MSNBC's Hardball with Chris Matthews, was on the phone with NYTV from Los Angeles. Earlier this summer, after nearly six years as a producer in the Washington bureau of NBC News, Mr. Bronson decamped to Hollywood to pursue a career in comedy.
His first job upon leaving the TV news business is, naturally, making fun of the TV news. Mr. Bronson is now working full time as a writer for Chocolate News, a new show starring In Living Color alum David Alan Grier, which will debut on Comedy Central this fall.
The series isn't a show-within-a-show satire like The Larry Sanders Show. Rather, each episode of Chocolate News will present made-up TV newsmagazine stories featuring a self-righteous anchor, played by Mr. Grier, who injects race into a series of "reported" segments similar in form (though not in tone) to those on 60 Minutes or Dateline. The bits will feature a mix of field reporting, narrative voice-over and lengthy interviews. In addition to Mr. Grier, the show will feature a cast of black correspondents and a token white one.
With Mr. Grier at its center, the series will be a rare thing on Comedy Central: a program with a black actor as its lead. The network hasn't had a show featuring an African-American performer so prominently since Dave Chappelle's Chappelle's Show and Wanda Sykes' Wanda Does It went off the air. (Unless you include Drawn Together's Foxxy Love, played by Cree Summer.) At the moment there's no actual major network newsmagazine show anchored and reported by a black cast, but that could change soon with former Congressman J. C. Watts set to launch a black news channel in 2009.
Mr. Bronson said the transition from real to fake news has gone smoothly so far. The series is currently being filmed, and the bulk of the first 10-episode order has been written. The only occupational hazard he's experienced has been an uptick in his consumption of real TV newsmagazines like CBS' 60 Minutes, ABC's 20/20, NBC's Dateline, and HBO's Real Sports With Bryant Gumbel.
Mr. Bronson is one of five writers on a multi-ethnic staff (Mr. Bronson is white) working under the supervision of Mr. Grier and veteran show runners Fax Bahr and Adam Small, whose credits include writing 2003's white boy rapper comedy Malibu's Most Wanted, starring Jamie Kennedy. Mr. Bronson said that he's the only member of the staff with an extensive background in TV news.
"It's been a tremendous benefit. It's useful because we're parodying a format that I worked in for some time. Many of the pieces are parodies of the kinds of things we might have covered at MSNBC."
Alas, in keeping with his news industry's leak-averse ethos, Mr. Bronson was wary of divulging spoilers. He did note that some sketches will dig into such TV news mainstays as medical breakthroughs, environmental hazards and high-school pilot programs. "David Alan Grier is a really big consumer of news," said Mr. Bronson. "He knows all the nuances."
The Observer first met Mr. Bronson back in April at Tammy Haddad's storied pregame brunch before the White House Correspondents' Association Dinner, and again later that night at the Bloomberg after-party. There, Mr. Bronson was enjoying the festivities alongside B. J. Novak, a supervising producer of NBC's hit show The Office, on which Mr. Novak also plays intern turned disgraced executive Ryan Howard. As it turns out, Mr. Bronson and Mr. Novak were friends from college. They both attended Harvard and worked together at The Lampoon.
Like so many Harvard graduates who made their way to Hollywood's fluorescent-lit writing rooms to craft one-liners and zanier boss-comes-to-dinner plots, Mr. Bronson found his comic sensibility riffing with fellow brainiacs on the Lampoon staff. "It was a great place to start developing a comedic voice at a really young age when most people don't have an outlet for doing that," said Mr. Bronson. "We spent incredible amounts of time there. Not necessarily working, just kind of hanging out with funny people."
One of the benefits of moving to L.A. is getting to hang out again with his old pal, Mr. Novak. "It's fun to have him out here," Mr. Novak wrote to NYTV via e-mail. "He definitely got out of Washington at the right time—I can't imagine fall 2008 will be an interesting political season."
After college, Mr. Bronson landed a job in D.C. as an assistant producer for NBC's Sunday morning program The Chris Matthews Show. Several promotions later, Mr. Bronson felt an urge to get back into comedy. He began writing packets and spec scripts for various comedy shows. Eventually, he landed the job on Chocolate News.
Mr. Bronson, who originally hails from Scarsdale, N.Y., is tall and lean with stylish dark locks. He lacks the snaggle-toothed quality not uncommon among TV news producers or the professional man-child mien many comedy writers cultivate. (This is to say nothing of the misshapen folk who write about them.) Back in April, at the Bloomberg after-party, an executive from a rival news network noted that Mr. Bronson was way too good-looking to be working off-camera. (Not long ago, FishbowlDC ran a "Separated at Birth" feature, comparing Mr. Bronson with ABC News correspondent and voice-of-god heartthrob David Muir.)
So will Mr. Bronson, like Mr. Novak before him, try and carve out an on-air role for himself? Mr. Bronson remained cagey. "Right now I'm just focused on writing," he said.
John Reiss, the executive producer of Hardball, described Mr. Bronson as a funny, engaging guy and a talented news producer. "I do miss him around here," Mr. Reiss told NYTV. "But I knew he had a bit of a jones for Hollywood."
"He was not a big performer around the office," added Mr. Reiss. "It's not like he would walk into a room and start telling jokes. But he wrote and helped re-create the Hardball Sideshow. It was initially an in-other-news segment. Jeremy and I worked together to make it more funny and more relevant."
Given the old saw—write what you know—NYTV wondered if Mr. Bronson might be tempted to write a blustery, blond-haired, hyper-excitable encyclopedic political pundit into one of his scripts anytime soon.
"David Alan Grier is the host of the show, playing a character that he's essentially created," said Mr. Bronson. "There will be no Chris Matthews character." Then again, maybe the former news producer turned comedy writer was just playing hardball.
fgillette@observer.com