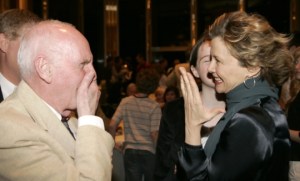 George Furth, a playwright who co-wrote musicals with Stephen Sondheim including Tony Award-winning Company, died on Monday in California at 75. He was hospitalized for a lung infection, but an exact cause has not been reported. Mr. Furth was a lanky, familiar character in many movies and tv shows including Blazing Saddles, Butch Cassidy and the Sundance Kid, Murder, She Wrote, and Wings.
As a playwright, Mr. Furth reached Broadway several times, both on his own and as a collaborator. "Twigs," his play about four women from the same family, all played by Sada Thompson, received mixed reviews when it opened on Broadway in 1971, though Mr. Furth's script had a fan in Walter Kerr of The New York Times, who called its four interconnected pieces "funny and touching and freshly conceived."
A short-lived comedy, "The Supporting Cast," appeared in 1981; and a more serious play, "Precious Sons," a family drama with conscious echoes of Tennessee Williams, Arthur Miller and William Inge, received serious critical treatment when it appeared in 1986, but the prevailing judgment was that Mr. Furth's noble ambition for his play outstripped his achievement. He also wrote the book for the Kander and Ebb musical "The Act," a 1977 vehicle for Liza Minnelli.
In his best-known works, however, he was overshadowed by his writing partner, Mr. Sondheim, with whom he wrote three shows: two musicals, "Company" and "Merrily We Roll Along"; and a nonmusical mystery, "Getting Away With Murder." "Merrily We Roll Along" and "Getting Away With Murder" were famous failures, though "Merrily," which closed after 16 performances in 1981, would be revised more than once and become a favorite among Sondheim devotees.