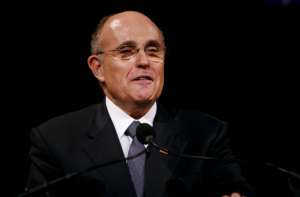 Barry Wynn, an important Rudy Giuliani supporter and former Bush campaign finance chair from South Carolina, thinks that Giuliani's selection as the Republican National Convention's keynote speaker is more the result of a close relationship with John McCain than a desire to reach out to independent voters.
"It just says that John McCain's his own guy and beats to his own drum," said Wynn. "They have been friends for 20 years and somebody is not going to tell John McCain not to have one of his longstanding best friends, who does have a star quality, not to be the keynote speaker. As far as whether it is orchestrated to appeal to a certain group or not, I just don't think that's the case."
"They have a lot of common interest on the issues," he added, referring specifically to tax, trade and energy policy. He also said Giuliani, despite his unsuccessful bid for the nomination, could have very well been the nominee had it not been for McCain.
"The vote that Rudy would have had to have to win that primary was John McCain's vote, and if John McCain had faltered, Rudy would have absorbed a lot of that vote," he said.
Wynn said that Rudy's big speaking engagement "very well could have" been a result of the close relationship McCain has with Giuliani's close aide, Tony Carbonetti. The best explanation for picking Giuliani, Wynn said, was the respectful way the two candidates treated one another during the primary. Mostly.