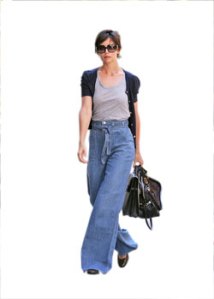 Mary Britton, a striking 23-year-old recent graduate of the School of Visual Arts with pale skin, naturally blond hair, and a personal style that is one-part hipster, two-parts 1950's screen siren, embraced high-waisted pants early on, before they became a ubiquitous sight on the city streets. Most of her wardrobe staples button above the belly button now. A pair of Charlie's Angels jeans, red sailor shorts, and a "sort of diaperish pair that cinch towards the leg" are her favorites.
"I think they're adorable and he hates them," Mary said matter-of-factly the other day, indicating her boyfriend, Kendall. Kendall nodded in agreement, bulging his eyes for emphasis. "The high-waisted jeans are almost dumpable," he said. "Like I can almost break up with you when you wear them."
"I think they show my figure," his sweetie said defiantly. "They remind me of Bette Davis."
"I think they look frumpy," Kendall countered, to swift rebuttal:
"How can I look frumpy in the most form-fitting pant ever?"
Kendall's early protestations have proven futile: Mary Britton would just as soon give up her bell bottoms as the other things she "rocks regularly," knowing full well he hates them, including, but not limited to, a beanie hat, a fedora and a romper.
Every season, women seem to embrace at least one designated trend that men universally detest, exposing a fundamental rift between the sexes over what looks good—and what decidedly does not. Call it girl-hot, guy-hot.
A handful of new crazes—and a few staples held over from seasons past, including maternity-style tops and potato-sack dresses—have brought the girl-hot/guy-hot paradox into sharper relief this summer than any in recent memory.
Of two dozen guys between the ages of 16 and 37 interviewed for this story, almost everyone complained about high-waisted pants and peasant tops. Gladiator sandals; round, thick-framed sunglasses; leggings under skirts; and knee-length shorts were other common gripes.
One 28-year-old film producer, who did not want his name to appear in print because he feared his remarks would be misconstrued, singled out oversize bags as a particularly unattractive trend, though he conceded their appeal to women.
"Girls use big bags to look skinnier," he said. (Er, also, because we have a lot of stuff to shlep around, sir!) "Anything that's really big, that's going to make your arms look thinner, is a good thing, and those huge bags do that. … Also, it just dwarfs them. And some girls like to feel small."
'She Doesn't Care'
Hardly a day goes by at the Intermix boutique on Broadway and 19th Street without at least one couple coming in to browse and bicker, a saleswoman told this reporter.
"Men tend not to like anything that is extreme fashion, and they usually don't like maternity style or flowy things," she said. And they usually prevail, she said—even when the woman is shopping solo. "A lot of times they go home and they bring it back and tell us their husband didn't like it."
You'd think the young would be more open-minded. But Tareq, a 16-year-old from Brooklyn, has been pleading for months with his girlfriend to tone-down her over-the-top hipster attire. "High-waisted jeans look like something my grandma wears, but I get it," he said, while perusing the racks at the Urban Outfitters on Broadway off Houston recently. "But stilettos with socks I don't get, and jeans under dresses are a serious no-no. I told her not to wear that stuff anymore, but she told me she's going to do it anyway. She doesn't care."
A preppy 23-year-old named Teddy who lives on the Upper East Side elaborated on the issue. "Men are pigs and we like to see what the girl's body looks like, not some flowing [material]," he said, shooting his petite, blond girlfriend an apologetic grin. She swatted him playfully and rolled her eyes.
"I don't mind if we're loafing around," Teddy continued, "but I consider them the equivalent of sweatpants and T-shirt. I just kind of like to see what a girl's hips look like, you know."
He hedged and smiled awkwardly when asked to describe which of his lady friend's favorite outfits he'd prefer not to see.
"I know nothing," he said.
"Why don't you tell me, and maybe I'll stop wearing it," she scolded, with the New York woman's typical brio.
Members of the fashion industry concede the guy-girl divide, albeit anonymously.
"We make some great ones," said a designer at an edgy, upscale downtown label of wide-legged pants, "but on a personal level, I try to stay away from them because when I wear them my husband tells me, 'You're not going out like that.' Lately, I've been trying the boyfriend jeans, but I haven't been getting good reactions."
Katie Holmes has already been seen on the streets of Manhattan in these slightly androgynous, lose-fitting jeans, worn cuffed at the ankles so it looks like you nicked them from the man you slept with the night before.
Another summer trend that men despise is the gladiator sandal—often described distastefully as "lesbian sandals" or "those things that wrap up your leg."
"If your name is Ivana Trump and you've got 60 pounds of gold and diamonds on, you can wear the Grecian sandals," said a 20-something carpenter and skier named Alistair. "But what are you thinking? Are you a wrestler? Are you going to fight in the Colosseum?"
It's not going to end in September. Jumpsuits, for example, revived last year in the spirit of Bianca Jagger at Studio 54, still haven't gone away. A full-bodied, black Stella McCartney model for $450 is on sale at Intermix, and a safari-print Alice and Olivia suit has already flown off the racks of Bergdorf Goodman.
Meanwhile, harem pants, not seen since the days of MC Hammer—aside from a rare appearance on patchouli-scented yogis or women in genie costumes on Halloween—are poised for a big comeback. "I'm really psyched about the ones we've done for the fall. They are so cool," said the designer. "The girl who's wearing them is not concerned with what a man thinks."
lohrstrom@observer.com