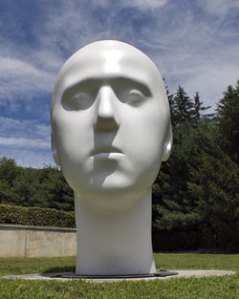 Context plays an important role in art. This is particularly true of sculpture; it's a medium that engages real space—that is to say, a place and our relationship to it.
Philip Grausman's Susanna and Eileen (1996-1999), two monumental fiberglass sculptures, are on display on the grounds of the Katonah Museum of Art—Susanna on the grassy hill leading up to the entryway, and Eileen in the rear patio.
I couldn't help but wonder what Mr. Grausman's portrait-heads would look like at, say, MoMA. Both measure roughly 10 feet high and require a significant amount of viewing distance—they could, I think, command MoMA's enormous contemporary galleries without strain, and maybe with finesse. The proportions of each are as deliberate, if not as overweening, as the museum's spaces. The coloration of Susanna and Eileen—an emphatic and velvety white—might transform MoMA's refrigeratorlike ambience into something like the Parthenon.
That's a stretch, but Mr. Grausman's profound debt to the art of antiquity renders it not altogether inappropriate. Susanna and Eileen have been shaped with a silky emphasis on idealization—contours slope elegantly, symmetry quietly emphasized, with facial features stoic and streamlined. Though Mr. Grausman's industrial material retains a certain artificial patina, it ultimately recalls the quarry rather than the factory. A tendency toward abstraction—universality, really—underlines the artist's belief that art can traverse and find meaning within cultures the world over.
The sculptures touch upon anonymity, but don't capitulate to it. Initially, they seem archetypal and foreboding—Mr. Grausman courts the generic—but the specificity of their titles is confirmed by the pieces themselves. Encased and entombed within their stylizations, you'll glean individuals. The quiddities of facial features—an aquiline nose or the broadness of a cheekbone—are quietly confirmed. So, too, albeit to a lesser degree, is temperament: It's easier to lunch in the museum's patio with the magisterial Eileen than it would be with the vaguely disapproving Susanna.
The decision to go big threatens to become mere spectacle, but Mr. Grausman isn't playing Koonsian games with size—there's not an ounce of showbiz in his bones. Something more encompassing is afoot. The work is unimaginable without the Elgin Marbles, death masks and fayum paintings (portraits placed upon Egyptian sarcophagi), but it also looks to non-Western cultures: The daunting size of Susanna and Eileen is pure Easter Island, as is the quietude they radiate. The more time spent with them, the more meditative and otherworldly they are. The sculptures all but threaten to dissipate. Mr. Grausman trades in ghosts.
Mr. Grausman's work is remarkably amenable to public spaces—his sculptures are a highlight of the Pratt Institute's on-campus sculpture park. But just because the sculptures look great surrounded by trees and under the clouds doesn't mean they wouldn't look great indoors. MoMA could do worse—and, in fact, has—than feature Susanna in its atrium gallery. The piece's free-standing integrity pretty much guarantees that it could withstand practically any surrounding—animate it, too. After all, the best works of art become contexts.
"Philip Grausman" is at the Katonah Museum of Art, 134 Jay Street, Katonah, N.Y., until Oct. 5.
mnaves@observer.com