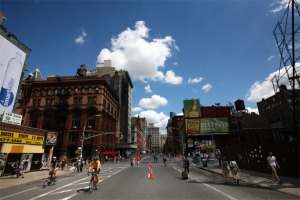 Jessica Stockton-Bagnulo, the events coordinator at the Nolita bookstore McNally Jackson, has been public about her intention to open a new independent bookstore in Brooklyn since at least January, when she won a $15,000 grant for the project from the Brooklyn Public Library. Since then, she seems to have zeroed in on Fort Greene as her neighborhood of choice, and the Fort Greene Association, which administered a survey to 380 locals and found that 74% of them wanted a bookstore in the neighborhood, is trying to help her make it happen.
Over the weekend a launch party was scheduled and announced for what's being called the Fort Greene Bookstore Initiative. Here's the flyer.
We left a message for Ms. Stockton-Bagnulo at McNally Jackson and hopefully we'll be able to update with some more info about what people can expect at this meeting. In the meantime, you can follow her progress on her blog, A Bookstore in Brooklyn.