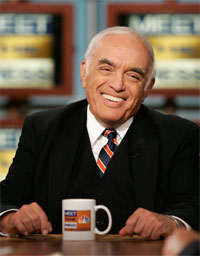 It seems like it was only a month ago that syndicated columnist Robert Novak announced he was retiring from writing as his recently diagnosed brain tumor was described as "dire." In fact, it wasn't even a month ago: It was August 4th.
Well, Mr. Novak is back, apparently, writing "occasional columns" according to a note attached to his latest column posted on Creators.com.
As you may recall, Mr. Novak hit a pedestrian with his car in July before being diagnosed with a brain tumor and announcing his retirement.