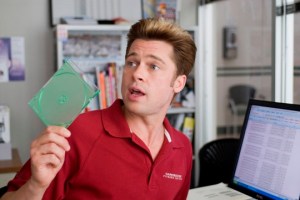 We here at the Culture Czar happen to be big fans of Variety and particularly of reviewer Todd McCarthy. Many times we'll read his reviews, nod along, and even make mmmhmmm noises at our desk. Which was why we were shocked (shocked!) to see his review of the Coen brothers new film Burn After Reading, which opened the Venice Film Festival last night:
"After their triumphant dramatic success with 'No Country for Old Men,' the Coen brothers revert to sophomoric snarky mode in 'Burn After Reading.' A dark goofball comedy about assorted doofuses in Washington, D.C., only some of whom work for the government, the short, snappy picture tries to mate sex farce with a satire of a paranoid political thriller, with arch and ungainly results." Yeouch! We happened to see the movie yesterday too (not in Venice, of course, but in a very comfortable screening room on Broadway). And we freakin' loved it! It felt fresh and fun and quick-witted, and in comparison to the bleakness and heavy 122 minute running time of last year Oscar winner No Country for Old Men, downright sleek.
Mr. McCarthy goes on to complain that the seriously talented cast (which includes Brad Pitt, George Clooney, Richard Jenkins, Frances McDormand, Tilda Swinton, and J.K. Simmons) "had been asked to act like cartoon characters in this tale of desperation, mutual suspicion and vigorous musical beds, all in the name of laughs that only sporadically ensue." Well, maybe we don't have the most sophisticated sense of humor, but we laughed pretty consistently and hard (and seemingly so did everyone else in the room). Trust us, just hearing John Malkovich – who plays a CIA analyst in the midst of a meltdown – pronounce "Chèvre" at a cocktail party is hilarious. The film's characters are a bunch of freaks and oddballs, but endearingly so, and what we took away from the cast-at-large was that this was a film about middle aged expectations and disappointments.
We'll save the official reviewing to our most esteemed colleague Andrew Sarris, but we felt we couldn't let comments like this one go buy without throwing in our two cents: "Nothing about the project's execution inspires the feeling that this was ever intended as anything more than a lark, which would be fine if it were a good one. As it is, audience teeth-grinding sets in early and never lets up." Because while there is no denying Burn After Reading is totally bananas, we also found it incredibly entertaining. We're curious to see how the rest of the critics will feel.