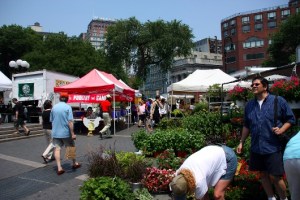 The Wall Street Journal this morning has a front-page story on how higher energy costs are curbing Americans' demand for oil and other fuels. It's simple economics, apparently–higher prices are slackening demand–and it's having far-reaching effects on real estate and retail:
U.S. households are making adjustments, too. David Pastor, who owns Fletcher's Appliance in Nashua, N.H., says three out of four washing machines he sells these day are energy-saving front loaders, up from one in four two years ago. "It's really gaining momentum," he says. During the first six months of this year, 55% of the washing machines, dishwashers and refrigerators shipped by appliance makers bore the government's Energy Star rating for high energy efficiency, up from 50% a year earlier, according to the Association of Home Appliance Manufacturers. …
High gas prices could provide a competitive boost to small farmers who market their food as locally grown. Westtown, N.Y., vegetable farmer Keith Stewart doesn't use any pesticides or herbicides — most of which are petroleum-based — and he fertilizes his fields with manure from local farms. He sells his produce at the Union Square farmers market in New York City, a 65-mile drive.
Mr. Stewart charges more than supermarkets do for their nonorganic fare, but the gap is narrowing. His prices, he figures, have risen 2% to 3% over the past year. That's less than the 8.4% the Labor Department says U.S. vegetable prices have risen over the past year. "I don't want to give the impression that I enjoy these high [energy] prices," he says. "But it's not something that is going to put me out of business."