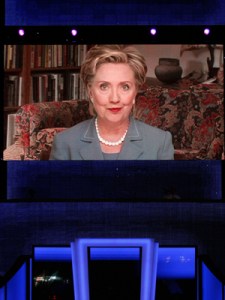 DENVER–Speaking in advance of this her speech tonight at the Pepsi Arena, Sen. Hillary Clinton spoke at a mega-Emily's List event this afternoon, telling the women's group that Barack Obama and
Joe Biden will "champion the issues that we care about."
She also offered warm words for Michelle Obama.
"I know a little bit about the way the White House works, and you know
if the president is not exactly on our side, call the first lady," she said. "And with Michelle Obama, we're going to have somebody who answers that phone."
She also took a shot at John Mccain's record on women's issues.
"He still doesn't believe that women deserve equal pay for equal work. He doesn't believe that women deserve the right to choose," she said. "He would turn the clock back, and what we need from our president is more movement, forward progress."