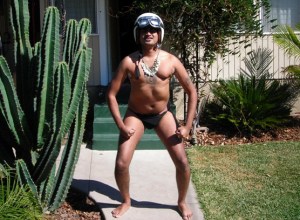 CONCERTS:
Since they blew through South by Southwest this spring, Seattle's Fleet Foxes have steadily climbed indie rock's crowded ladder. They played the Bowery Ballroom in March and again in July, stormed the Pitchfork Music Festival later that month, jumped across the pond for England's Isle of Wight festival in August, and sold out their October show at Webster Hall. It's a wonder they found time for a full-page profile in Spin. Surprisingly (or not), the quintent sounds very little like your traditional scraped-on-Pavement indie rock. As evidenced by June's self-titled debut, Fleet Foxes' are into lazy English folk, fat, shamelessly gorgeous four-part harmonies, and hummable melodies that seem to circle endlessly back on themselves. It's CSNY all over again.
Now the boys return to New York for an Oct. 4 performance at the opulent Grand Ballroom, a night before their sold-out show at Webster Hall. [Tickets went on sale yesterday]
Whether with backing band the Shrines or BBQ Show, King Khan dishes out a wicked blend of maximum R&B, psychedelic soul, and Nuggets-era garage rock. Just listen to his recent compilation The Supreme Genius of King Khan and the Shrines. As for the Khan himself—a Montreal-born son of Indian immigrants—the guy seems to be something of a lunatic, if a lovable one. During a recent conversation with Deerhunter's Bradford Cox at last month's Pitchfork Festival, Khan (wearing little more than a g-string and a giant tambourine around his neck) gave his thoughts on sexuality (the "perpetual motion machine that is in my body"), lesbians ("I think lesbians are far more superior. Eventually males will be wiped out because only the sperm will be needed from the male and males will be used as food and fodder and will be freeze-dried"), and mortality ("the way I'd like to die is at a big, grand buffet being eaten by 13 women after being injected with morphine and lots of other crazy things") Fantastic.
Khan and the BBQ Show tear the roof off the Music Hall of Williamsburg on Nov. 29 and the Bowery Ballroom the night after. [Tickets for both shows went on sale yesterday]
And while we know you've probably heard enough about McCarren Park Pool this summer, we'd be remiss if we didn't mention that Sonic Youth (who may be heading to an independent label) are playing there this Saturday as part of the very last show at the Brooklyn venue ever. You have to pay for this one, though. Yo La Tengo played the final free Pool Party last Sunday. Sonic Youth rocks the official farewell event before Bloomberg turns the whole place into a $50 million recreation center. [Tickets on sale now]

DANCE:
The dance community seems finally to be embracing post-modern notions like sampling, appropriation and bricolage—ideas that have long held sway in literature, music and the visual arts. For The Accursed Items—opening on Wednesday, Sept. 3, at the Ontological-Hysteric Theater—Andrew Dinwiddie "borrowed" material for his choreography from a wide range of sources, including fellow-choreographer Levi Gonzalez, the Wooster Group, a Playboy Playmate named Cara Zavaleta—even Metallica. The Accursed Items is, according to the venue's Web site, "anchored by J. Robert Lennon's prose poem of the same name, in which the author exposes the history and lingering psychic life of abused, broken and discarded objects."
As The Times' Claudia La Rocco notes, Dinwiddie is just one of many choreographers getting respect for disrespecting dance's traditional focus on authenticity and originality. Still, Dinwiddie asks, "Am I simply stealing other people's good ideas?" Head to the Ontolgical-Hysteric Theater and decide for yourself. [Tickets on sale now]