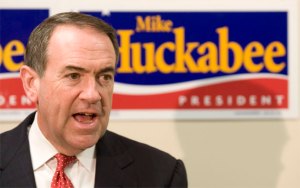 The New York Post reports today that former Arkansas Governor Mike Huckabee was in town recently to tape a pilot for a weekend variety show for Fox News, which will apparently premier sometime this fall.
The report was based on an interview that Mr. Huckabee did over the weekend with the Arkansas Democrat-Gazette.
From the Democrat-Gazette article:
First, the TV bit. It seems such a natural as to be a stereotype. Huck TV. What else but? Mike Huckabee is to radio, television, Internet, YouTube, multi-media and anything involving a microphone-and-camera as leaves are to trees. Sometimes it's hard to tell where one ends and the other begins.
Of his show, Huckabee offers only generalities: "I can say it's gonna be unlike anything else that's on FOX and maybe on cable." When asked if it's a talk show, Huckabee says, "yes and no. Not a talk show like you've seen. We'll have a live studio audience and some very innovative features."
Update, 12:55 PM: Politico's Michael Calderone got the following statement from Fox News:
[C]ontrary to what was reported in today's NY Post — Mike Huckabee has not shot a pilot for Fox News Channel. We are in discussion about developing a show with him in the future, but remain in the early planning stages.