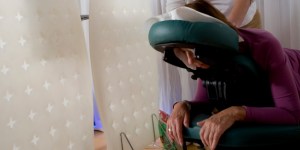 Verena Von Pfetten, the living editor of The Huffington Post who chose to live-blog The Huffington Post Oasis for The Huffington Post, has had enough of live-blogging.
"I've given up on the liveblogging because I've got waaaaay too much other shit to do. But it was fun while it lasted," she wrote in an e-mail.
She's moved onto other assignments for her Living Section, but it hasn't stopped the media celebs, exhausted by the slim pickings at the "Media Spa" in Media Pavilion 4 and the Captain Morgan lounge in Media Pavilion 2, from dropping by. Charlie Rose and Katie Couric are the most recent dinosaurs who traveled out of the media perimeter at the Pepsi Center for their own Ayurvedic consultations and free samples of Pangea Organics Egyptian Geranium with Adzuki Bean & Cranberry Facial Scrub.