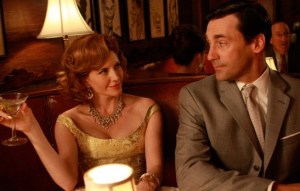 We have to admit, after all the gushing press coverage that Mad Men received before the launch of its second season, we were more than a little concerned. There is example after example of popular watercooler shows hitting a wall in their sophomore year. Call it "The Curse of the Second Season" (see LOST, Desperate Housewives and, most recently, Heroes.) Would Mad Men be able to maintain the effortless excellence of its first year?
Thankfully, thus far, the answer is yes. Through five episodes, we've found the second season to be, quite possibly, an improvement on the first. Year two of Mad Men has actually gotten tighter, more focused and more interesting. Everything is better. Credit has to go to Matthew Weiner and his impeccable cast, specifically the ennui-filled Jon Hamm, but we think the second season kicked into high gear when Bobbie Barrett (Melinda McGraw, most recently Commissioner Gordon's wife in The Dark Knight) showed up as the perfect foil for our favorite anti-hero, Don "I feel nothing" Draper. Ms. McGraw fits in seamlessly with the world Mr. Weiner has created: she's boozy, sexy, domineering and does it all with a take-no-prisoners attitude. And her scenes with Don pack a spark that really make the show pop.
Unfortunately there won't be a new episode of Mad Men airing this Sunday (Sterling-Cooper is closed for Labor Day), but don't fret! AMC is being kind enough to run all five episodes from the second season, consecutively, starting at 5PM on Sunday. So if you didn't start watching season two because you weren't fully caught up on season one (only recently did the wait for Mad Men on Netflix drop from "infinity" to "very long"), now's the time. Or if, like us, you've seen every episode, maybe you can take this respite from a new one as an opportunity to go out and find a bar-be-que to attend. It is Labor Day Weekend after all.