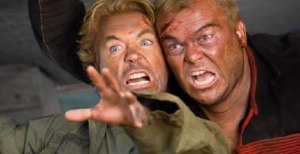 Looking for a new movie to see over this Labor Day Weekend? Don't bother. As usual, Hollywood closed up shop for the summer two weeks ago. Maybe it's just us, but doesn't the box-office wasteland that annually occurs during the last two weeks of August feel like a self-fulfilling prophecy? If a good movie were released on Labor Day Weekend, wouldn't it make a lot of money?
We won't get that answer this year, as there isn't a single thing worth noting coming out this weekend. None of new releases look even remotely appealing, and one seems like an affront to all things good taste. (Seriously, if you are one of the people who go see Disaster Movie over the next three days, then may God have mercy on your soul.)
Well if you're in the mood for the multiplex–and not to see The Dark Knight for a fifth time–we have a suggestion. Over on iTunes you can download the thirty-minute Tropic Thunder faux-making of documentary Rain of Madness. For free!
If Tropic Thunder is Apocalypse Now filtered through Zoolander, think of Rain of Madness as the Dodgeball version of Heart of Darkness. Narrated by "German filmmaker Jan Jurgen" (actually actor and Tropic Thunder co-screenwriter Justin Theroux), Rain of Madness focuses on movie-within-the movie director Damien Cockburn (Steven Coogan) and his attempts at actually making Tropic Thunder.
We can't actually say that Rain of Madness is any good, because, well, it's not. Theroux drones on in a Werner Herzog-like monotone that is funny for about 4.5 seconds, while Coogan hams it up, going so far as to moon the camera in an attempt for laughs. The whole thing feels like a DVD extra that you'd only watch if your cable and internet were out.
But the fact that the actual stars show up, continuing their roles to hilarious effect, almost makes it worth it. We doubt anything in Disaster Movie, Traitor, College and Babylon A.D. will be as good as watching Robert Downey, Jr's cracked out method actor, Kirk Lazarus, suffer from "Post Platoon Stress Disorder." (Don't ask.) Plus, we're sure that seeing Tropic Thunder beforehand isn't a prerequisite; most of the jokes are of the supplemental variety.
Also, did we mention it's free? If nothing else, watching Rain of Madness seems a lot more fiscally responsible than spending money on a Vin Diesel movie.