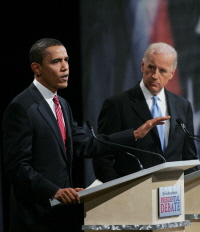 The prospect of Joe Biden joining Barack Obama's ticket, which seems to have grown more real in recent days, raises an interesting possibility: another Biden presidential campaign.
Given how his campaign turned out this year, the idea of Biden ever seeking the White House again seems (and probably is) unlikely. But, at least in theory, a tour de force performance as the VP nominee – think Lloyd Bentsen in 1988 – could spark popular interest in a future Biden presidential campaign that was missing in this past one. If Obama were to lose, Biden (again, theoretically) might then have a shot at the 2012 nomination (much the way the '92 nomination was essentially Bentsen's for the taking after his '88 performance).
Alternately, he and Obama could go on to defeat John McCain and his running mate and to win reelection in 2012. Biden would be 73 in 2016, but as a two-term incumbent vice president, he would (like Al Gore, George H. W. Bush and Richard Nixon before him) presumably have a leg up on his party's presidential nomination if he chose to pursue it. His age would be an issue (he'd turn 74 a few weeks after the election), but it wouldn't preclude a candidacy: Ronald Reagan was 73 when he was re-elected in 1984, just as Bob Dole was 73 when the G.O.P. nominated him in 1996. And, of course, there's the example of John McCain this year.
The idea of a future Biden campaign is interesting because if one were to materialize, it would probably set the record for the longest gap between a major presidential contender's first and last White House campaign. Biden's maiden effort was for the 1988 Democratic nomination, although he dropped out in the fall of 1987. (Before that, he actually came close to jumping into the 1984 Democratic race at the last minute, finally backing off the week after Christmas 1983.) A 2016 White House campaign would come 28 years after Biden's first effort. That would likely be a record. And if he were to win in '16 and then seek re-election in 2020, the gap would grow to 32 years. History suggests that presidential candidates aren't supposed to enjoy that kind of longevity.
For most serious candidates, this gap is never longer than 16 years. Dick Gephardt, for instance, was a fresh-faced newcomer when he ran in 1988 and a worn-out Washington insider when he ran his second and final campaign in 2004. The gap was also 16 years for Ronald Reagan (he briefly sought the 1968 G.O.P. nomination and last ran in 1984); Bob Dole (he first sought the G.O.P. nomination in 1980 and finally won it in '96); George McGovern (he filled in for Robert Kennedy in the run-up to the '68 convention and ran his last campaign in 1984); and Jerry Brown (1976 and 1992). Going back further in history, the record seems to belong to Henry Clay, who ran five times between 1824 and 1848.
There are plenty of fringe candidates with longer gaps between their first and last campaigns, most famously Harold Stassen, who ran nine times between 1948 and 1992. He was a contender in '48 and 1952, but was never treated seriously after that. Eugene McCarthy suffered a similar fate, waging credible campaigns in 1968 and '72 but being ignored in '76, '88 and '92.
Interestingly, Biden's theoretical reach for the longevity record could face competition from Al Gore, who was just 39 when he sought the 1988 Democratic nomination. In other words, he's still young enough – and certainly more than popular enough – to make another serious White House run four or eight years from now.