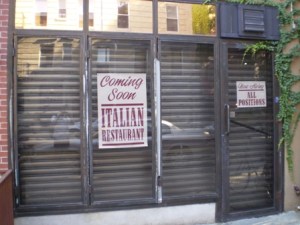 Scarpetta chef Scott Conant may be "too modest" to say it, but here's proof that Italian is the new French.
Literally, in this case: beloved former French bistro Cocotte in Park Slope is being converted into some type of red-sauce joint, described simply as an "Italian restaurant," according to some new signage posted on the premises.
Cocotte, one of this author's favorites in the neighborhood, was suddenly shuttered back in February, with chef and co-owner Bill Snell blaming stiff competition along Fifth Avenue, the Slope's premier restaurant row.