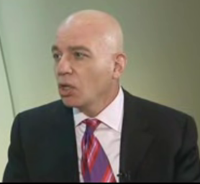 The New York Post's Keith Kelly reported yesterday that Michael Wolff's book on Rupert Murdoch and the Dow Jones takeover is coming out in December, instead of February as initially intended. This spurred Media Mob to get in touch with Mr. Wolff and find out why. We did, pretty much right away, and the answer was just "Christmas," so we stayed on the line for another few minutes and asked Mr. Wolff some more things.
Below, the conversation is reproduced, though be warned that while none of Mr. Wolff's words were changed or rearranged, the questions in bold have been reconstructed from memory.
How's the book going?
As of tuesday I'll be done. The last interview [with Murdoch] was in July.
Did it turn out well?
You know, I think it's pretty good.
Why did the book get bumped forward from February to December?
We went back and forth and they decided it was safer to do February. [But] they've been pressured to get it out before Christmas because the orders have been substantial, so this has been a speeded up process since the early summer. They've been editing as I've been writing.
Who's your editor?
Phyllis Grann. An old pro, just like myself.
Is the book very different from what you originally had in mind?
It's exactly as I envisioned it, except I got much more access than I ever thought I would get. I got an enormous amount of access to Murdoch himself, but also access to his entire family. His 99-year-old mother gave me a joyride on her golf cart at her estate outside of Melbourne.
Did she drive?
She drove, double clutching all the way.
So is the book a biography of Murdoch or is it more narrowly focused on the Dow Jones takeover?
Narrow this book is not. It is completely the full story of the Dow Jones takeover, but… to tell the Dow Jones story, you have to tell the Murdoch story because it really is all of a piece. So it's the entire Murdoch story. I had complete access… not just to News, Corp. people, but also to all his children and his wife, who have been incredibly open and generous and really revealing.
Why are they talking to you?
It's a question I've asked them all, and I'm not sure anyone quite adequately answered it. I don't know. Partly it has to do with the fact that they all think their father has achieved something great.
And why is he talking to you?
I think for the same reason. I think he is just pleased as punch with himself—in a good way. There's no arrogance particularly, though he has occasionally been arrogant although not with me. I think he's just delighted. Getting the Journal is really that capper of a career.
Did he go off the record a lot during your interviews?
I don't think he ever went off the record. Murdoch is not an off the record kind of guy.
Did you have to work very hard to convince him to cooperate?
[At first,] I would be sitting with him and I would see in his eyes the question: what is this guy doing here? But after that he got incredibly relaxed. I wrote this piece for Vanity Fair last summer about the Dow Jones takeover and he liked it. And I've known him for quite some time and we've always gotten along… I've interviewed him before and I've had dinner with him before. We're certainly not intimates but we have known each other.
Does Murdoch or anyone else at News Corp. get a look at your draft before the book is published?
No. They have no idea what's coming.
Do you think they'll be surprised by what you've written?
I'm sure they will be.

Forgive me, but did you ever find out why Murdoch decided to fire Jane Friedman?
The Random House people have been asking, 'Oh, are you going to explain what happened to Jane Friedman?' And just the other day I finished the epilogue, and I wrote Phyllis a note saying, 'I think this is really good but I didn't get in the Jane Friedman thing because relatively speaking, for News Corp. this is almost irrelevant for the company.' I know you take the book business very personally, but it's not really front of mind for Rupert.
But so, wait, do you know why?
Do I know why… do I know why… not exactly. I think, well, this is my theory: I actually sort of saw this go down and my theory about this is that Random House made a change and Rupert got competitive.
It's funny that the Random House bugged you about it.
The Random House people were eager—they were as eager as you—to get an explanation. And I had to tell them that this was not a major event in the story of News Corporation.
Did you ever ask him about it directly?
I think it came up a few times. Again, you know, our emphasis on this, because we're from the book business, is different from his. For him this is a passing event in a business that he's not particularly concerned with or focused on.