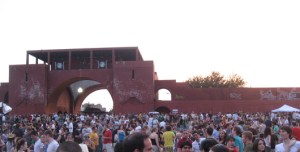 Did you ever really have that much fun at McCarren Park Pool, whose reign as one of New York's most popular summer show spots will end tomorrow when Sonic Youth brings the curtain down on two years' worth of weekend concerts at the waterless Williamsburg swimming hole? Sure, it's hard to complain about free shows by A-list indie bands (Superchunk last summer was our favorite). But the crowds? The stifling heat and lack of shade? The Porta-Johns? Having to navigate through all those nauseating clown-hipster posses? Maybe we're just getting old, but we'd rather be lounging at a real pool and listening to Daydream Nation on our headphones.
Nevertheless, tomorrow's final concert will most likely be a bittersweet occasion for the many 20-something Brooklynites who will have to find some other way to spend their summer Sundays. (Swimming, perhaps?)
But good news! the New York Post reports that tomorrow's Sonic Youth concert may not be the venue's last.
Not if the Parks Department has its way, that is.
On Sept. 9, new plans for the pool – which, at four-times Olympic size, is the largest of 11 city pools built in 1936 by Robert Moses – will be reviewed by the New York City Landmarks Preservation Commission.
If approved, renovations to the majestic brick arch will begin immediately with the reopening of the pool slated for 2011. Mayor Michael Bloomberg has promised $50 million for the renovation.
The design calls for a new U-shaped pool (about 70 percent of the current footprint), an ice-skating rink, a cafe, a community center and an exhibition center.
And, yes, a performance space – for use during the off-season.
A pool with actual water where you can also ice skate and rock out to Les Savy Fav? Everybody wins!