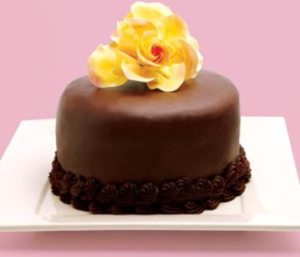 First came the overhaul of the old Jewish Hospital into quasi-luxury rentals. Then came Saje. Chavella's. Bristen's. Two clothing boutiques. The beer garden. Abigail. The gentrification of Crown Heights — in all of its prickly glory — continues apace with the impending arrival of Lily & Fig Fine Cakes and Confections on Franklin Avenue and Park Place.
The high-end sweeterie sells its Florette cake (above) — which is described on the store's Web site as "[f]our layers of chocolate sponge with a raspberry ganache filling, coated with your choice of Belgian dark or white chocolate icing and topped with an exquisite corsage of sugar-paste flowers" — for $75. A tin of scrumptious-looking "Rum Twigs" sells for $12.50.
With the apparent demise of Saje cattycorner to the new cafe, the neighborhood could, frankly, use another place to sip tea, eat sweet things and work on master's projects. (Let's hope the place has Wi-Fi.)
The locals who frequent Brooklynian.com sure seem excited. Someone calling himself "WR" wrote, "I really hope they have baguettes and fresh croissants. I hate having to leave the nabe for this. Id be there every other day if they do…"
Another commenter, "LauraPhoenix," had the wherewithal to actually call Lily & Fig. She reports, on Brooklynian, that "they plan to open Sept. 20, 2008, barring any licensing/permit issues. Yay! See y'all there."
Sweet!