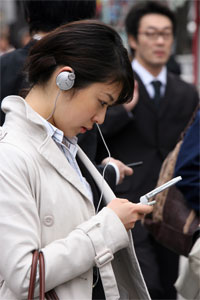 This week's issue of Time has an article about how "Online Americans, fed up with e-mail overload and blogorrhea, are retreating into micro-writing." That means six-word memoirs, four-word film reviews, twelve-word novels, and, er, Twitter.com.
These things are like Japanese haikus, according to Time. Which is a charming argument, and one that would have been even stronger if the author of the piece had included the fact that in Japan lately a whole lot of the books that appear on the best-seller list are paper adaptations of novels that were originally published as serialized text messages. This was written about in The Times in January, and in The Sydney Morning Herald a month before that.
Facts about cell-phone novels from The Times:
– "Of last year's 10 best-selling novels, five were originally cellphone novels, mostly love stories written in the short sentences characteristic of text messaging but containing little of the plotting or character development found in traditional novels."
– "The cellphone novel was born in 2000 after a home-page-making Web site, Maho no i-rando, realized that many users were writing novels on their blogs; it tinkered with its software to allow users to upload works in progress and readers to comment, creating the serialized cellphone novel. But the number of users uploading novels began booming only two to three years ago, and the number of novels listed on the site reached one million last month, according to Maho no i-rando."
– "The writers are not paid for their work online, no many [sic] how many millions of times it is viewed. The payoff, if any, comes when the novels are reproduced and sold as traditional books. Readers have free access to the Web sites that carry the novels, or pay at most $1 to $2 a month, but the sites make most of their money from advertising."
– Love Sky, "a debut novel by a young woman named Mika, was read by 20 million people on cellphones or on computers, according to Maho no i-rando, where it was first uploaded. A tear-jerker featuring adolescent sex, rape, pregnancy and a fatal disease—the genre's sine qua non—the novel nevertheless captured the young generation's attitude, its verbal tics and the cellphone's omnipresence. Republished in book form, it became the No. 1 selling novel last year and was made into a movie."
Why don't these exist in the United States? Obviously everyone would read them. This—along with alternate reality games—is what the publishing houses should be doing if they want to keep up instead of thinking about Digg and Yelp or whatever, as some people seem to think.