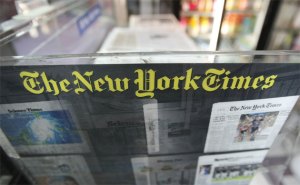 Hopeful to prove to investors that The Times is doing something about the worst economic year ever for newspapers, The New York Times Magazine is letting advertisers do all sorts of new things to their magazines. Last week, Play had a single sponsor—in the magazine, and on the Web site—for the first time ever.
This week, an otherwise provocative (though somewhat familiar) cover—white letters against a black background asking, IS OBAMA THE END OF BLACK POLITICS?—is hidden under a partial wrap for an advertisement for U.S. Trust.
The placement is similar to the cover wrap that appears on the cover of the newsstand edition of The New Yorker with a few key differences: the wrap on The New York Times Magazine doesn't ride up the entire length of the book, so it's a little more cumbersome; The New Yorker's wrap actually tells you what's in the magazine (as opposed to its abstract covers) whereas The New York Times Magazine's wrap actually distracts you from the cover with an ad about philanthropy. (Then again, The New York Times Magazine doesn't need to worry about newsstand sales like The New Yorker does).
The Times just sent out a release proudly proclaiming it the "first ever cover-wrap" in the Magazine's history.
"We are delighted that U.S. Trust chose to use this first-time, innovative New York Times Magazine advertising unit to promote its philanthropic management capabilities," said Denise Warren, senior vice president and chief advertising officer, The New York Times Media Group in a statement. "This ad buy illustrates how we continue to work closely with our clients to create unique executions and customized opportunities to meet their business objectives."
The release goes on:
The New York Times and The New York Times Magazine have introduced many innovative advertising solutions and premium advertising positions over the last 18 months, including the newspaper's section front ad program; section spadia ads; unique positions on NYTimes.com and T online; single sponsored magazines; and positions like checkerboards, book ends, checkerboard spreads and fireplaces.