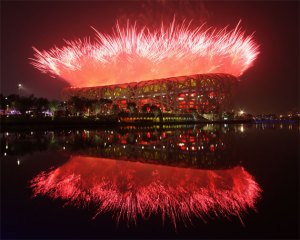 More Landmania for you Friday afternoon!
As we wrote this week, NBC and The New York Times are going into the Olympics with different goals: NBC is covering the sports, The Times is waiting for a big news story.
Well, Jonathan Landman, The Times' deputy managing editor, laid out his own distinctions between NBC and the paper of record in his weekly memo. Even though Jeff Zucker believes NBC's coverage over the next two weeks is "the most ambitious broadcasting event ever attempted," with a planned 3,600 hours of coverage, including 2,200 hours live on the Internet, Mr. Landman isn't so impressed:
The formula for a great news and information Web site: Be interesting and useful. Does it get any more useful than this?
http://www.nytimes.com/olympicstracker
Let's stop for a second and gush. When it comes to giving readers a way to sort their favorite events out of the Olympic scheduling morass, and then to keep up with the things that interest them most, there's just nothing else close. Not even over at NBC, where they've paid several billion gazillions to lock up the video. It's an exceptional technical achievement, but much more, it's a brilliant feat of journalistic imagination.
And that's not all.
NBC didn't carry the opening ceremonies live on the Web because they're hoarding their video for prime time TV. Oldthink. We're here to help. http://olympics.blogs.nytimes.com/2008/08/08/the-opening-ceremony-begins/