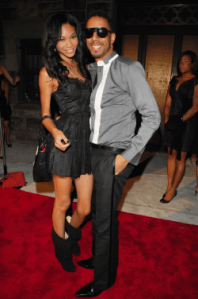 Danyel Smith, Vibe Magazine's off-and-on editor-in-chief—she arrived at the music monthly in 1994, left for Time Inc. in 1999, and returned in 2007—has a new maxim: "Keep print alive," she said at the magazine's 15th anniversary party Tuesday evening at Cathedral in Hell's Kitchen. "I was just telling my husband that that's my new motto."
The Daily Transom wondered if she thought Vibe—or print magazines in general—would last another 15 years. "You know—and I hate to use this language—but abso-fucking-lutely!" said Ms. Smith, who was wearing a bright green, floor-length dress. "There are some things that, no matter what happens in this world, people are still going to want to touch." (We can think of a few other things.)
A casual poll of party attendees seemed to support that assertation. Though model Chanel Iman mentioned a 2007 Vibe feature she shared with her namesake and fellow model Iman, she told us, "It's all about Vogue!" The 18-year-old, dressed in a tiny vintage Givenchy number and a complicated pair of fringed sandals, was mum on her upcoming fashion week engagements, however: "It's always a secret!"
Another Vogue girl, America's Next Top Model's Toccara Jones, who recently posed in the Italian version of the magazine's much lauded all-black issue, told us the shoot was, "Mind-blowing. You know, Stephen Meisel shoots you and you're in this magazine that's like a collectors item with Tyra and Naomi and Beverly Johnson—it was a dream come true."
What did she think of her mentor's recent interpretation of Michelle Obama in Harper's Bazaar?
"I thought it was fabulous. It was amazing–and whoever that cute guy was looked just like Obama." And what are her thoughts on the real couple? "I think they're beautiful…I wanna be like Michelle Obama when I grow up."
Meanwhile, Ms. Iman's escort, musician Ryan Leslie—they're just friends!—has weightier taste in reading material: "I really just like reading The Economist, Forbes…I read Fortune. I'm an entrepreneur." How are his investments? "Let's just say I got into Google at $85 a share."
Rapper T.I., another avowed Forbes reader, spends his leisure time similarly: "I like to consider myself a savvy investor…I invest more in property and real estate-can't go wrong with that." (Hopefully he's playing a bit safer than–often troubled–fellow investor and Warner Music CEO Lyor Cohen, who he enthusiastically attempted to dissuade from leaving early.)
Speaking of real estate, Estelle, the British chanteuse whose collaboration with Kanye West has been unavoidable this summer, told us her adopted home of DUMBO is "just like London, actually. It's like the Hoxton area of London–kind of legwarmers and trendy, but quietish. It's nice."