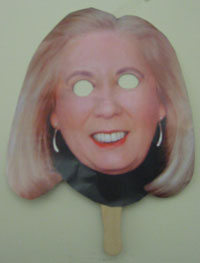 It was a small party on Steve Rubin's roof last night, not a big party. Just two "civilians" there, as Jane Friedman, the guest of honor, put it—everyone else was either a publishing executive, an editor, a high-powered literary agent, or a member of her family.
Bob Miller, head of the Harper Studio imprint at the publishing house Ms. Friedman ran until a few months ago, said that if you bombed the terrace, "you'd lose the entire industry."
For Ms. Friedman, it was really just about friendship. Almost everyone who came, she said, except for the publicist Matthew Hiltzik, she'd known for over 20 years.
She thought the trick they played on her at the beginning, when she first came out onto the balcony, was hilarious. The trick was that everyone at the party had these cardboard Jane Friedman masks that they put in front of their faces right before she walked through the door. Mr. Rubin, who is the head of the Doubleday division at Random House, sent out an e-mail to all the guests the day before and asked that as many people as possible get there early so that the trick would "have a dramatic effect."
"We have maneuvered Jane to arrive around 6:20pm," the e-mail said. "Obviously this is all hush-hush. See you tomorrow."
Ms. Friedman said she loved it, but you could tell she wasn't really sure what to do when she came out and saw everyone looking like that. Part of the problem was that there had been no consensus on what to say when she emerged, so most people just stood silently while others halfheartedly shouted "surprise!"
Binky Urban, the literary agent from ICM, wasn't really sure what the whole thing was about.
"Should we all sing 'happy birthday' or something?" she said.
Bob Levine, the publishing lawyer who said he represented half the people at the party, said there should be clapping. "Let's all clap," he said. "Let's all clap now."
Anyway, Ms. Friedman loved it. "Whoever thought of that was just brilliant," she said later. "I thought, 'oh my God, what are they going to do with all those Janes? I just felt very pleased. I mean, this is my posse! This is it. There's no one here whom I haven't known for all the years that I've been in publishing. There are very few newcomers. So that's an amazing thing."
She made that point during her speech as well, which came after a series of warm and fuzzy toasts from newly minted Harper Collins number two Michael Morrison, literary scout and co-host Maria Campbell, Ecco publisher Dan Halpern, Mr. Rubin, and Gil Schwartz
Brian Murray, who replaced Ms. Friedman as C.E.O. of HarperCollins when she was fired in June, did not give a speech, because he was on vacation and couldn't come to the party.
Mr. Halpern had the best line of the night, when he said that Ms. Friedman's mom Ruth, whom everyone at the party knew for some reason, looked like she was aging in reverse. "I think that's what Keats meant by negative capability," Mr. Halpern said.
Right before Mr. Halpern gave his speech, Knopf publisher Sonny Mehta showed up. This was at like 6:50. All the guests were already facing the door because that's where the speeches were being delivered, and so everyone watched as he made his way down the steps and onto the terrace. Mr. Halpern stepped up as soon as Mr. Mehta had safely ducked into the crowd.
"Where was this bar?" Mr. Mehta asked someone in a whisper. Apparently someone had something about a bar.
"On the other side," came the apologetic answer.
Mr. Mehta could see there was no way he was getting over there, especially not with Mr. Halpern giving his toast two feet away. He swore a little under his breath. Later he was seen with a glass of red wine and some water, smoking an American Spirit.
Pretty soon it was Ms. Friedman's turn to speak.
"I'm actually overwhelmed," she said. "I really am. I'm – ahem!-what's the word? Perklempt? So I wrote a few things down because I didn't know if I was going to be able to speak."
The publishing reporters–from the Times, the Journal, New York, the AP: for some reason they had all been invited to this private gathering!– got their notebooks out.
"So, this is my transition party. And I think that's very important to say!" Ms. Friedman said. "This is my transition party."
She went on: "It's very nice to have all of you here. As Steve said, I'm so pleased that in the dog days of August, when everybody thinks that everyone in publishing and everyone in the world is off on the Riviera, we have la creme de la creme on this wonderful, wonderful deck. So I thank you all for coming. You all mean a tremendous amount to me."
And also: "I also have to say something serious, which is I am very proud to be in this industry. And I am very proud to be known as one of its greatest cheerleaders. And while book publishing is certainly facing many challenges I know that it will survive and it will thrive and that's because of all of you in this room. So we have to all remember that. It's important."
And finally: "So anyway. What I'm going to say –and this is it– is I am not done, and I am not done by a long shot."
By 8:15pm most of the guests had gone home. By the looks of it, a lot of them took their Jane masks with them.