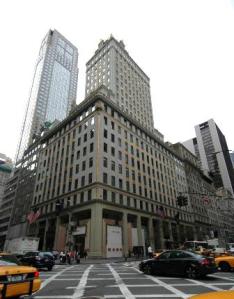 Joe Bruno is marketing space in Eliot Spitzer's Crown Building.
No, silly, not that Joe Bruno!
Still, the irony is rich. A real estate broker who just happens to have the same name as the former governor's arch-nemesis, is the sublease agent for space on the eighth floor of the Crown Building at 730 Fifth Avenue — home to the offices of real estate patriarch Bernie Spitzer and his errant son Eliot, and, conveniently, of Playboy Enterprises.
Joe Bruno, an associate at NAI Global, is marketing 9,935 square feet of the historic building for the remaining three years of a lease. The ad boasts, among other things, "northern exposure over 57th Street," "private bathrooms," and "prestigious Fifth Avenue location."
The asking rent isn't listed, but asking rents for a direct lease on the seventh floor are $89 a square foot, according to CoStar.