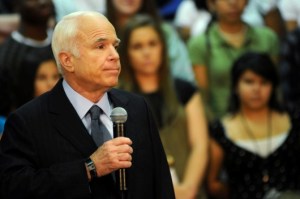 From the U.K.'s Guardian:
According to its marketing literature, The Residences at 2211 Camelback, an upmarket apartment building in Phoenix, Arizona, is "a dream within a dream environment," where "life beyond the expected awaits your discovery". An "ambience of distinction embraces residents and their guests upon arrival and rewards them with soaring architecture [and] a bountiful treasure of luxury amenities that ensure personal comfort". There's a fitness centre, business facilities and a boardroom, a massage service, and a rooftop pool terrace with a sun deck and spa, offering "majestic mountain views," all just yards away from "couture boutique shopping, exquisite dining [and] championship golf".
If John McCain does not win the US presidency this November, his two combined units at 2211 Camelback might provide a consoling setting in which to reflect upon why. So might his ranch on the banks of a creek in Sedona, a couple of hours' drive away, which has three houses on it, or his three-bedroom apartment in Virginia.