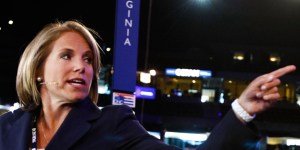 Katie Couric will anchor the CBS Evening news from the Gulf coast on Monday night, CBS News announced today.
More from the CBS press release on the network's hurricane/convention coverage:
–CBS News Correspondents Cynthia Bowers, Randall Pinkston, Byron Pitts, Dave Price, Tracy Smith and Hari Sreenivasan will report from the area for all CBS News broadcasts.
–The Early Show's Harry Smith will anchor from the area beginning tomorrow morning (7:00-9:00 PM, ET/PT), along with Early Show Weather Anchor Price.
–CBS News' live Republican National Convention primetime specials-Monday, Sept. 1 through Thursday, Sept. 4 (10:00-11:00 PM, ET; check local listings) will include coverage of both the hurricane and the RNC.