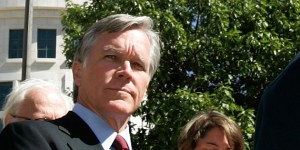 It's not every Sunday that you pick up The New York Times and find Bill Keller's byline all over the paper. And, according to Mr. Keller, there might be a Sunday someday soon when there won't even be a paper for him to write in.
Stealing a page from the David Remnick playbook, Mr. Keller decided to drop his editor's cap and rewind back to the good old days when he was a senior writer pointing his critical eye to far-off places. In yesterday's Times, Mr. Keller's byline appeared on the cover of Week in Review and Book Review sections for articles about the reemergence of China and Russia, and Nelson Mandela, respectively. It was the first time he had two pieces in the same paper on the same day since May 4, 2003 when he was a columnist and senior writer for the paper. (Incidentally, that was a week before The Times published its 7,000-word investigation about Jayson Blair—a story that would, among many other things, lead to his taking over the paper).
Like Mr. Remnick, who will use his own byline in The New Yorker for stories he's particularly passionate about (if there's any major Russian event like the invasion of Georgia, you'll often find Mr. Remnick's byline, who writes about it authoritatively after covering the country in his days for The Washington Post), Mr. Keller focused on his two areas of strength: also Russia, which he covered for The Times during the same era as Mr. Remnick; and South Africa, where he was a correspondent in the 1990s.
Once you were done with those stories, you probably thought you had your Keller fill. Well, hopefully you didn't turn on the TV. On Saturday night and Sunday morning, he was the lead guest on NY1's The New York Times Close-Up. Times reporter and Close-Up host Sam Roberts asked Mr. Keller the inevitable question: Does he miss writing?
"Only four or five times a week," he replied, a little coyly. (Does he write on the weekend? Does the process of writing memos every day make him yearn for more creative assignments?)
Mr. Roberts asked him about the day's Significant Issues, like the future of the newspaper industry.
"Figuring out how to make the Web pay for what it takes to produce a really good news report—that's everybody's dilemma," said Mr. Keller. "I'm the house optimist on this question. I don't think everybody will make that transition successfully, but I think The Times will. But, you know, I could not draw you a day-by-day road map to that destination."
So, will newspapers go poof someday soon?
"Yes, but i think it's farther off than conventional wisdom would have it," he said. "I mean, The Times—that bundle of cellulose that lands on your doorstep—is still profitable… It's interesting, the circulation of the printed newspaper has been going down, as it has for most newspapers, but the revenues from circulation have been going up. So it's going to be around for a while. But yeah, I could imagine a day when, you know, when the printed newspaper either becomes a kind of boutique product like the vinyl record, or disappears altogether."