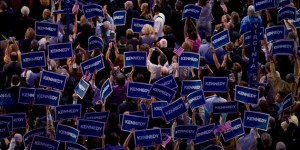 After Caroline Kennedy addressed the Democratic convention on Monday night, the hall watched a movie about her uncle Ted Kennedy.
It showed Kennedy in black-and-white images as a young man pounding lecterns. It showed him in middle age hitting the campaign trail and then as a grandfather sailing with his children and grandchildren. Colleagues and family spoke about him, some in the past tense, and the film ended with Kennedy, only a few months ago, at yet another podium, shouting, "It is time now for Barack Obama."
It had all the trappings of a lifetime achievement award, but Kennedy, it turned out, showed that he isn't done.
When the woman on the loudspeaker introduced Kennedy, the entire convention audience, much of which was apparently surprised that the senator, gravely weakened by a brain tumor, would actually speak, jumped out of their seats. They held signs that said "Kennedy" up over their heads and turned the hall into a waving sea of blue and white.
On wobbling legs, he took the stage. In a wavering voice, he said, "It is so wonderful to be here." And he said, "Nothing – nothing, is going to keep me away from this special gathering tonight."
He said of the Obama campaign, "This is the cause of my life, new hope," and demanded that health care be treated "as a fundamental right and not a privilege." For many in the hall, Kennedy's repetition of his famous words, "Hope rises again and the dream lives on," struck a chord that other speeches at the convention so far have not done.
"I think it was one of the most moving events that I have ever witnessed and I think we all love Ted Kennedy," said former Secretary of State Madeline Albright. "He has been a stalwart and he is a very good friend, and he clearly thought it was very important to deliver the message to make it clear that a torch has been passed to the next generation and as someone who has heard Jack Kennedy say that, it was very moving."
A few rows above her, Barrie Hofmann, a staffer at the National Democratic Institute, from California, said, "There is something eternal about the Kennedy family," she said. "And that was reinforced watching him tonight. I just felt very moved."
A few seats away from her, Prime Minister Navim Ramgoolam of Mauritius recalled first hearing Kennedy speak when he was washing dishes in Cape Cod as a student during George McGovern's campaign. "I had never, ever seen such a stirring speech in my life," said Ramgoolam.
Tonight's speech, he said, surpassed it.
"I take away from it that there is hope that the greatest nation in the world have people who can actually bring change for a better world," he said.
Outside in the convention halls after the speech, Ken Burns, the filmmaker and something of an expert on moving subjects, said Kennedy's speech found its strength not in the words, but in the whole circumstances surrounding them.
"It's an accumulated thing," he said. "It's obvious that he had the courage and the energy and the will to be here to show what he represents to this party and to this nation."
Burns said that "when the history of the Senate is written, he will be seen as the greatest Senator of all time, Daniel Webster is a distant second, maybe."