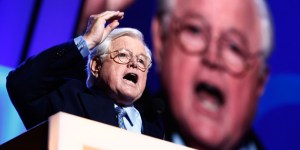 Ted Kennedy not only appeared on stage, he actually delivered a ten-minute address. Around 9:30, just after his niece Caroline spoke and a video tribute was broadcast, the 76-year-old Democratic lion, accompanied by his wife Vicki, stepped out from behind the video screen and onto the stage. A stool sat next to the podium, but Kennedy didn't need it.
He made no direct mention of his battle against an aggressive form of brain cancer, which has been known to claim the lives of its victims within months of its diagnosis, but made it clear that he's not planning to go anywhere anytime soon.
"I pledge to you that I will be there next January on the floor of the United States Senate when we begin the great fight," he declared at one point. He also said that, as president, Barack Obama "will have no stronger partner in the United States Senate" than him.
On paper, Kennedy's speech probably reads like most other convention addresses. But the words weren't nearly as meaningful as the mere fact that Kennedy himself was delivering them. Since his May diagnosis, he's undergone intense surgery in North Carolina and has only made one brief appearance on the Senate floor, mostly staying close to home in Hyannis. Understandably, he was less animated at the podium than at past conventions and at times he seemed to struggle to read the text in front of him. But he closed in memorable fashion, with a riff on the famous final words if his 1980 convention speech, perhaps the high moment of his political career: "The work begins anew, the hope rises again and the dream lives on."