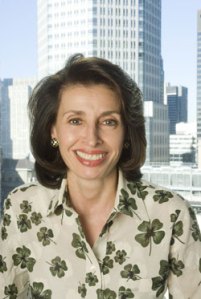 To cover commercial real estate in the year 2008 is to experience the distinct sensation that you've stumbled into the 1950s, or onto Staten Island. It's a world in which men joke about "broads" at the male-mostly conference table, where spotting a woman at a Real Estate Board luncheon is a cinch—she's the sole red-breasted bird in the forest of white-crested pinstripes and charcoals.
Here, in this bizarro throwback of an industry, members can tick off on their fingers the influential women among them. Mary Ann Tighe, the fiercely powerful CEO for the tristate region at CB Richard Ellis, is always the first name, followed by the firm's mighty vice chairman for investment properties, Darcy Stacom. Industry members might also mention Faith Hope Consolo, Leslie Himmel, Patricia Goldstein and a couple of others. And that, we fear, is that.
It's not much better nationwide. Thirty-six percent of commercial real estate development professionals are women, according to a 2005 Commercial Real Estate Women Network study. Only 23 percent of brokerage professionals are women (an increase from 20 percent in 2000).
Compare that to residential brokerages, where, while numbers are elusive, there are certainly more female brokers than male. (The respective CEOs of the city's two largest residential firms are women: Pam Liebman at the Corcoran Group, and Dottie Herman at Prudential Douglas Elliman.) Commercial real estate, in contrast, is essentially a boys' club, even if, as some say, that essence is waning.
"It has an image of a rough-and-tumble industry, where you have to be street-smart to make deals," said Peggy DaSilva, director of a Deutsche Bank real estate opportunity fund. "It feels still more like a business that you can't just master going back to business school. Inherently, maybe that's intimidating to women."
Indeed, girls aren't exactly raised to go into real estate. There's something brawny about the bricks and limestone facades of older Manhattan buildings, and the glass curtain walls of their slender, towering neighbors. Those who broker the sales and fill the floors of these buildings seem to soak in a stew of property-lust, of a money-driven, libidinous city. In this milieu, any emotion other than anger is a sign of weakness.
"You sit in a meeting with all these guys, and everybody is just like screaming, yelling, cursing," said Ms. Consolo, chairwoman of the retail sales and leasing division at Douglas Elliman. "You must never cry. If you cry in front of them, you lose all credibility."
Ms. Stacom said she battled her emotions for a very long time: "Certainly, into the 1980s and 1990s, there was a lot more screaming and posturing. Men didn't think twice about making a woman cry."
Indeed, tales of crudeness are not in short supply. In 1996, when Ms. Stacom was eight months pregnant with her second child, she pitched her services to a potential client. That client's reps noted her swollen belly and asked what would happen were she to have complications and couldn't complete the job. She lost the deal. (Ironically, she did have complications, and still returned to work three weeks later.) "I was appalled," Ms. Stacom said.
A few years ago, Ms. Consolo attended an International Conference of Shopping Centers in Las Vegas. When she found herself in a client's hotel earlier than expected, she called up to his leasing suite. There was no answer. She took the elevator upstairs. Finding the suite door ajar, she walked inside. She found her client in the arms of two prostitutes.
"I had another landlord I was wooing," Ms. Consolo recalled. "He said to me, 'You know, Faith, your competitor's company, he takes me to Vegas, he sets me up with girls. So why shouldn't I give all my property to him?' I said, 'Because he's too busy partying. I'll be busy working.'"
Tricia Rosen, who runs the boutique Rosen & Jacobs Realty, worked in the mid-1990s at a prominent retail brokerage run by a gentleman who strung his neck with thick chains and let his chest hair billow out his shirt collar. She too has tales of Vegas.
"The one and only time I went to the ICSC in Las Vegas, it was so gross," Ms. Rosen said, her green eyes peering through stylish red-rimmed glasses over coffee at Bouley Bakery. A single pearl and diamond pendant hung around her neck. "You're staying at these big gambling casinos. And at night, we'd get together for dinner and then they'd go to a strip club. I'm not going to do that. What the fuck? I'm not going to watch people humiliate themselves. … Most of my female friends don't go to ICSC. It's a big boys' club."
The women who do stomach the noxious atmosphere, who have risen above it to the top, are themselves a throwback to an earlier era, as least stylistically. They wear impeccable suits on sculpted bodies, unchipped manicures on graceful hands, perfectly coifed helmets of hair. Perhaps they find a hyper-feminine appearance a necessary antidote to the non-feminine competitiveness they must employ to get the deal done. Despite their best efforts, these women get maligned for being, as Ms. Stacom puts it, "witches."