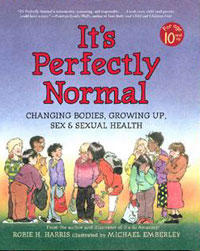 A 64-year-old woman named JoAn Karkos from Maine stole a book from the Lewiston Public Library and now she won't give it back because she's afraid it would fall into the wrong hands if she did. The book is It's Perfectly Normal: Changing Bodies, Growing Up, Sex and Sexual Health, which, according to Publishers Weekly, features "two characters—an easygoing bird and an apprehensive bee" and includes charming watercolor-and-pencil art that is "alternately playful and realistic (and occasionally graphic)." (This comes via Bookslut.)
Ms. Karkos has been critical of the book for a while: In September 2007, she checked out two copies of It's Perfectly Normal and refused to return them, paying the libraries for the cost of the books and including a note that read, "I have been sufficiently horrified of the illustrations and sexually graphic, amoral, abnormal contents. I will not be returning the books," according to WMTW.
Wednesday, following a trial during which Ms. Karkos represented herself, the honorable Judge Valerie Stanfill of the 8th District Court ordered her to give the book back. Then the following exchange took place, as described in The Sun Journal:
'Even if this was the most obscene book ever published in the world, it is not a defense against the charge,' Stanfill said. While Karkos offered to pay for the book, Stanfill told Karkos she couldn't force the sale of somebody else's property against their wishes.
Stanfill ruled that Karkos had violated the library's policy and ordered her to return the book. The judge asked Karkos where the book was.
'I have it in my possession,' Karkos said. She paused, then repeated that general answer each time the judge pressed her. Finally, Karkos said she had the book with her.
'Then return it right now,' Stanfill said.
'I'm going to hang onto the book, your honor,' Karkos said.
Stanfill advised Karkos she could be held in contempt of court if she refused to comply with a court order.
'Please return the book,' the judge said.
'Your honor, I cannot return the book,' Karkos said after a pause.
'I am ordering that book be returned today,' Stanfill said. She told Karkos she would have to stay in the courtroom until she gave up the book. After the judge left the bench, a court officer ordered the public out of the courtroom.
Ms. Karkos stayed and waited until finally the judge came back and told her she had two days to comply, meaning later today—at 4 p.m., to be precise—the other shoe is going to drop. We'll update you when the deadline comes—though be warned that according to The Sun Journal, Ms. Karkos told reporters outside the courtroom she has no intention of giving the book back.