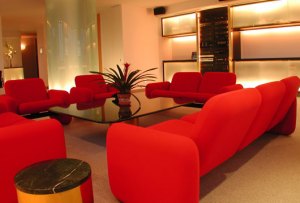 Most 1,203-word Sunday Times articles about combined-unit condos with nine surround-sound speakers and 14 plasma televisions and a 15-foot retractable theater screen and 35 electrically shaded windows stir up throbbing, bilious resentment.
But there was something unpredictably lovely about a July 2005 profile of the apartment that architect David Mandl built for himself and his wife, Anita, at 280 Park Avenue South. The article ends with Ms. Mandl explaining that they watch a little TV, but prefer putting photographs from their three decades together up on those 15 screens.
A few months after that article was published, Mr. Mandl, who co-founded the much-lauded firm Meltzer/Mandl Architects, was diagnosed with pancreatic cancer. He died one year ago this month, at home in the apartment. He was 53.
"Frankly, the design and space was so important to him—and less so to me, so he really ruled the roost on that one," Ms. Mandl said last week. "David was a fierce man and an elegant man. I thought the apartment really reflected that."
"It was not simply a place to come home and be comfortable," she said later, talking about their 8,000 slides (from 103 trips together) that went up on these screens. "So for that I am ever grateful." Sometimes digitized Matisse portraits would go up, too, or homemade films: "I came home—he's a very funny man, I'm not alone in thinking that—and he was showing a party he had had that somebody videoed. And he was saying, 'I was just feeling I didn't have any friends.'"
Mr. Mandl went to his office at Meltzer/Mandl up until three weeks before his death, and then when he was bedridden, the apartment's enormous wireless remote came in handy. "He could control the entire house: the shades, the lights, the A/V system," she said. "I can't tell you—that was his pleasure. I was so glad he was able to live that out."
Ms. Mandl, 66, began looking for a new apartment in January. "It was just too much to do; it's not the way I want to spend my life, looking for light bulbs and getting programs restructured."
Antonio Palagiano, a gastroenterologist who lives in the building, just bought the 2,300-square-foot apartment, with its seven or so miles of wiring intact, for $3.1 million, according to city records.
Meanwhile, Ms. Mandl is moving to a smaller condo in the building. The space is being redesigned with an architect who worked for her husband. "When she was designing," Ms. Mandl explained, "she would say, 'What about this cabinet? If it were David, he'd want white, but what about you?'"
mabelson@observer.com