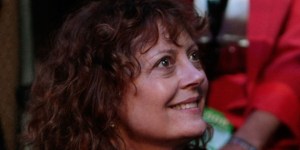 Last night the much-discussed Hollywood contingent here in Denver, who have been lending their "visibility" to myriad
events and causes all over town, congregated in the V.I.P. section of the Black Eyed Peas concert. Members of the Creative Coalition's
hard-working band of entertainers—Alan Cumming, Tim Daly, Anne Hathaway, Spike Lee, Barry Levinson, Josh Lucas, Matthew Modine, Susan Sarandon—were joined by various showbiz colleagues including Jessica Alba and Hayden Panettiere in the balcony area at the Fillmore Auditorium, as Fergie & Co. shook their rumps on stage below.
Meanwhile, local nightclub impresario Jesse Morreale wondered if the glamorous crowd would have enough energy to return for another after after party at the Rockbar.
"I'm hoping to use this moment to put Denver on the map," said Mr. Morreale, who owns multiple Lo-Do eateries and event spaces, which he's made available to the Creative Coalition's busy line-up of events.
He's done his best to turn his RockBar on East Colfax, renamed BarackBar for the week, into the safe haven stars at these things need to keep them from being seen and make sure they are seen, depending on the circumstances.
His dreams came true the night before when "like 30 celebs showed up" sometime after midnight. "Bars here close at 2," Mr. Morreale noted. "So we got all the civilians out around then hosted and hosted private party for the VIPs."
New York's favorite lefty activist Susan Sarandon, who has been on her best behavior this week, apparently led the way in an impromptu tequila sampling which lasted until 5:30. "The rawness of it was really amazing," said a wild-eyed Denver local who witnessed the
much-needed merriment.
According to another source, the late night celebration left much of the Creative Coalition posse "too hung over" to do interviews the following morning at the Coalition event—10 in two days—honoring Annette Bening her upcoming film 14 Women, which chronicles the life and times of the 14 female Senators in the 109th Congress.