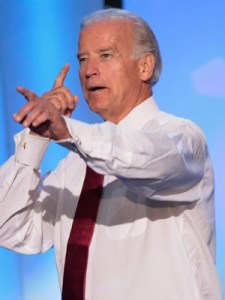 Only one half of the Democratic ticket is actually set. With this afternoon's acclamation vote, Barack Obama is now officially the party's candidate for president. But Joe Biden, his handpicked running mate, must still win the convention's formal blessing. Technically, the party could go through another time-consuming roll call of the states to nominate Biden, but there's no need for that. Instead, Biden will be nominated just after 10 tonight (after Bill Clinton's speech) by Quincy Lucas, a Delaware woman and domestic violence activist. There will be no seconding speech; to save time, delegates will simply be asked if anyone seconds the nomination — and hundreds of them will shout back "I do." Then, with no one else in the running for the VP slot, a motion will be made to nominate Biden by acclamation. After that, Biden's son, Beau (the attorney general of Delaware — and a potential candidate to replace his father in the Senate, should Biden win the vice presidency this November), will provide an introduction before Biden himself finally appears to deliver his acceptance speech — probably around 10:30.
The last time the nomination of a vice presidential candidate was anything but ceremonial came in 1956, when presidential candidate Adlai Stevenson decided to leave it to convention delegates to choose his running mate. Senators Estes Kefauver and John F. Kennedy emerged as the chief contenders, with Kefauver (who had lost out to Stevenson for both the 1952 and '56 Democratic presidential nominations) winning out.
Technically, however, there was — fleetingly — a contested race for the vice presidential nomination at the 1992 convention, when onetime Massachusetts governor Endicott "Chubb" Peabody arrived at the convention after waging a symbolic campaign for the vice presidency during that year's presidential primaries. Peabody believed that the VP slot was too important to be decided by the presidential nominee and succeeded in placing non-binding vice presidential beauty contests on several states' primary ballots. (Typically, he was the only candiate on the ballot in these states.) At the convention, Peabody had himself nominated for vice president and used his speech to plead for a change in the VP selection process. But he also stressed that his efforts were meant merely to draw attention to the issue — and not to oppose Al Gore, who had been chosen by Bill Clinton before the convention to serve as his running mate. At the conclusion of his speech, Peabody withdrew his nomination and endorsed Gore, who was then nominated by acclamation.