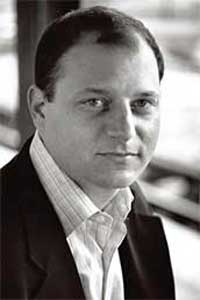 Jonathan Mahler didn't know whether to be happy or sad when he read on July 22 that Salim Ahmed Hamdan's Military Commission trial had begun. He'd been following the case for years, and as it happened, he'd recently finished a book about it that was scheduled to come out in just a few weeks. Consequently, what happens to Mr. Hamdan—a Yemeni in his 30s who served as Osama bin Laden's driver until he was captured by U.S. forces in 2001 and taken to Guantánamo Bay—would have serious ramifications for Mr. Mahler's book, and what they would be, he did not immediately know.
The book, titled The Challenge, hit stores this week, and the trial concluded with a split verdict on Wednesday.
So, does Mr. Mahler, a New York Times Magazine contributing writer, feel blessed? Or is his book suddenly irredeemably outdated?
"I have to think it's going to help the book, because certainly it's generating more interest in Hamdan and it has created lots of media," the author said in an interview with Media Mob. "What I hope won't happen is this will make my book seem like a political, current-events-type book that, you know, will only be relevant at this moment in time, because I don't think it is. I think it's a timeless story."
He went on: "I'm obviously hoping that it'll be seen in the context of A Civil Action and Gideon's Trumpet, rather than another book about the Bush administration's policies on the war on terror… I don't think there's anything wrong with a book that's more political in nature and intended to capitalize on a moment in the news cycle or even a broader cultural moment but this just isn't that kind of book."
The next edition of the book—which was published by Farrar, Straus & Giroux—will come with a substantially updated epilogue, Mr. Mahler said. An excerpt from the book ran in Time on July 24 and Mr. Mahler had an essay in The New York Times Magazine on August 3.