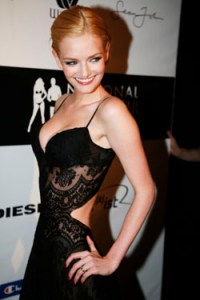 Last night, socialite, sometime Gossip Girl, and new face of Myla Lingerie Lydia Hearst hosted a cocktail party and fashion show to celebrate Freshpair.com's 6th Annual National Underwear day. (Every other day of the year is apparently not underwear day!)
Also in attendance at Espace were Russell Simmons and designers Izzy Gold and Richie Rich, as well as a bevy of reality television habitues: Elle contributing editor and America's Next Top Model judge Nole Marin, Ben DiChiara of Bravo's Make Me A Supermodel, and Real Housewives of New York City stars and co-dependent couple Alex McCord and Simon van Kempens. Surrounded by a gaggle of gentlemen clad only in designer briefs and the occasional inexplicable football pad, Ms. Hearst looked comparably demure in a low-cut, backless, black lace Mark Bauer dress and pulled-back blonde hair.
We asked Ms. Hearst about those photographs that were making the rounds in certain corners of the Internet yesterday morning–a series of shots of her making out with the equally blonde Danity Kane chanteuse Aubrey O'Day outside of East Village club Butter.
"Those were completely staged and not real at all," she said.
Shocking! But the showy PDA (Public Demand for Attention?) was apparently slightly more than a mere publicity stunt.
"I was filming a movie last night," Ms. Hearst explained. "I knew I was going to have to explain it! Aubrey and I are not a couple… She's one of my best friends, so she and I were in the movie together." And then, things started to get a little meta: "I feel bad for all the paparazzi that did think it was real, but it was for the film. And actually hiding within the real paparazzi were the actual cinematographers. [The film] is kind of a modern take on the film noir Kiss Me Deadly, with a sort of Britney- Lindsay mix, and in the end I run off with a male paparazzi."
"Movie" is maybe a bit of a stretch–Ms. Hearst's own publicist didn't even seem to be aware of the project–but the performance was reportedly part of a short film by Tara Subkoff promoting her new line for Bebe.
Later on in the evening, as Ms. Hearst introduced the fashion show portion of the event, she encouraged guests to support the cause of "bringing underwear back to the streets of Manhattan and Hollywood." However, she closed her speech with a seemingly opposing directive to the audience to "expose [it]self." A contradiction? Maybe we're just vulgar.
Thankfully, co-host Tyson Beckford, a man who has built a career on the exceptional quality of his underwear appearances, was more straightforward. What's his favorite kind of underwear? "Can't say that," he said. "They don't pay me to wear 'em."