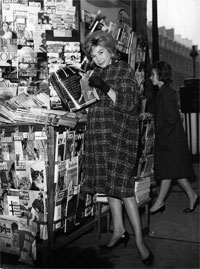 Add magazines to the list of things Americans are foregoing due to the rising cost of living. Based on the Audit Bureau of Circulation (ABC) numbers released today, sales of U.S. magazines dipped 6.3 percent according to the Associated Press' Jeremy Herron.
According to a chart presented by Portfolio's Jeff Bercovici, the magazines that faired the best were those aimed at older readers: AARP Bulletin, AARP The Magazine (whose Web site boasts it's the "World's Largest Circulation Magazine"), and Reader's Digest.
AP reports that two magazine's that actually saw increases were Time Inc.'s People, which has a 5.2 percent newsstand increase (thanks a million, Knox and Vivienne) and In Style.
Of course, magazines could be in worse shape: They could be newspapers.